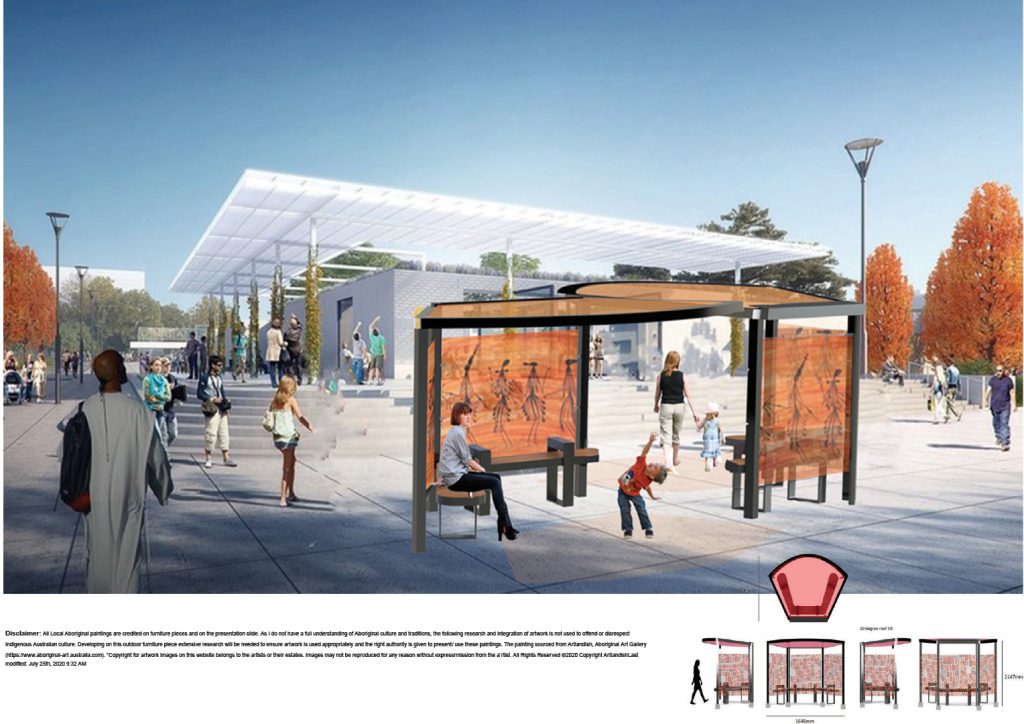 View Full screen
'Yaama' Street Furniture Design
Nicole Kyriacou
Yaama is an adaptable and modular seating design that provides technological features and unique Aboriginal artwork.
'Yaama' meaning 'hello' in 'Gamilaraay language' is a seating design for users to sit and take shelter, meet up with friends, talk and listen online and offline and share ideas and thoughts with people. Inspired by the 'Yarning Circle', 'Yaama' seat design is specially designed for people to sit facing each other and encourage people to converse with one another.
Improved life for Sydney siders
'Yaama' creates an overall better life for Sydney siders, as the design provides technological features such as 'wireless and adaptor charging arm rest station', free public Wi-Fi as well as other features that can be added to the design (such as an e-bin). The selected artwork design and colour is specifically selected for the area, solely depending on the aesthetics or artworks story connection with the given land.
Great public space feature
The incorporation of roof 'solar- window' provides sun protection, shields rain, further projects colour in seating area as well as seamlessly providing power for charging station and LED lights.
Transformational design
'Yamma' enhances and encourages nightlife as the LED strip lights (located at the bottom of the glass panels) automatically light up, further projecting artwork and colour at night. This design feature provides a sense of safety for people to utilise at night creating a reliable 24-hour space.
The unique shape of 'Yaama' is adaptable for any public area, as the it can be placed in an array of styles and layouts.