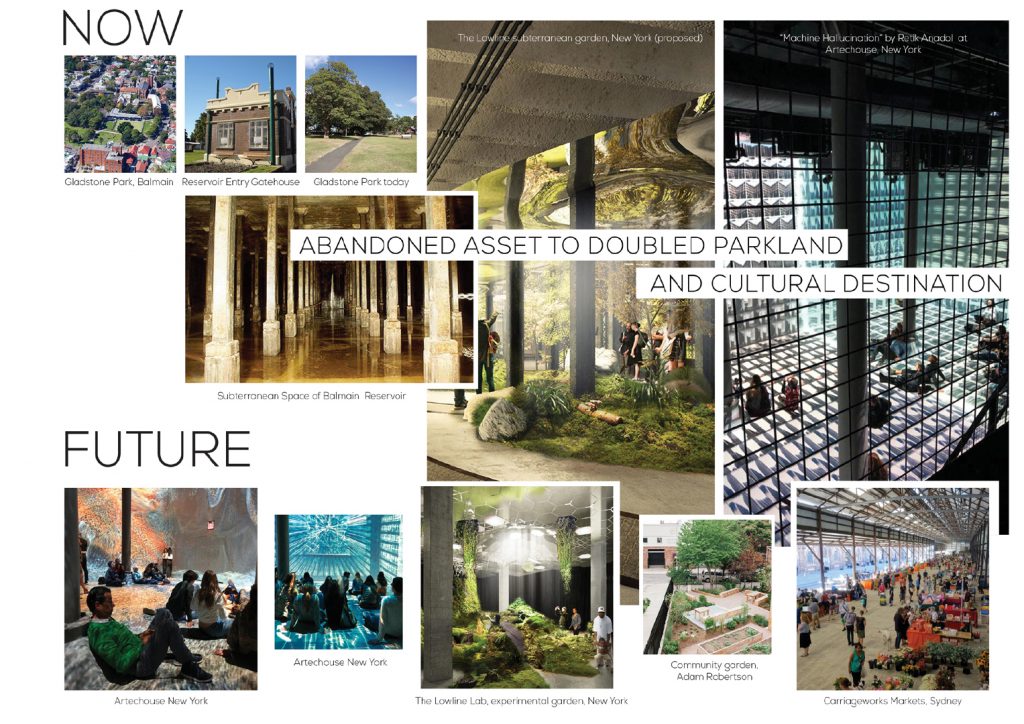 View Full screen
X2 Public Space: Reimagining Balmain Reservoir
Michelle Cramer, Kate Moriarty, Kiki Nizette & Belinda Daly
A transformational idea.
At the heart of the Balmain-Rozelle Peninsula, Balmain Reservoir lies hidden, abandoned in plain sight – awaiting rejuvenation. Beneath Gladstone Park, the historic 100-year old facility is part of the original network of Sydney's water supply. Accessed via an understated gatehouse, those who have seen it describe an architecturally stunning, giant subterranean cavern about 15m high, the size of three and a half basketball courts, matted with tree roots, rusting pipes, valves and obsolete machinery. The central rectangular, columnar space rests waiting for rediscovery and reinvention as a new type of public space for Sydney.
Delivering great public space.
This place has the right dimensions for a public venue. It could be Sydney's premier digital light|sound art space. A new gathering place, it could be a contemporary, new Town Hall for Balmain. Elevating sustainability, it could be the first double-decker park in Sydney, doubling the area of parkland and creating a subterranean botanical lab with the Botanical Gardens. With a curated program, it could have an events calendar achieving all.
Creating a better place for Sydney-siders.
The underground room is a destination like no other for locals and tourists. Located in dense urban Balmain, its greatest value is doubling the size of Gladstone Park. Using vertical visual, physical and light connections, Gladstone Park can come alive day and night, growing the retail, food and beverage around it, and activating with events. In doing so the Balmain Reservoir can redefine the contemporary park on a world stage.