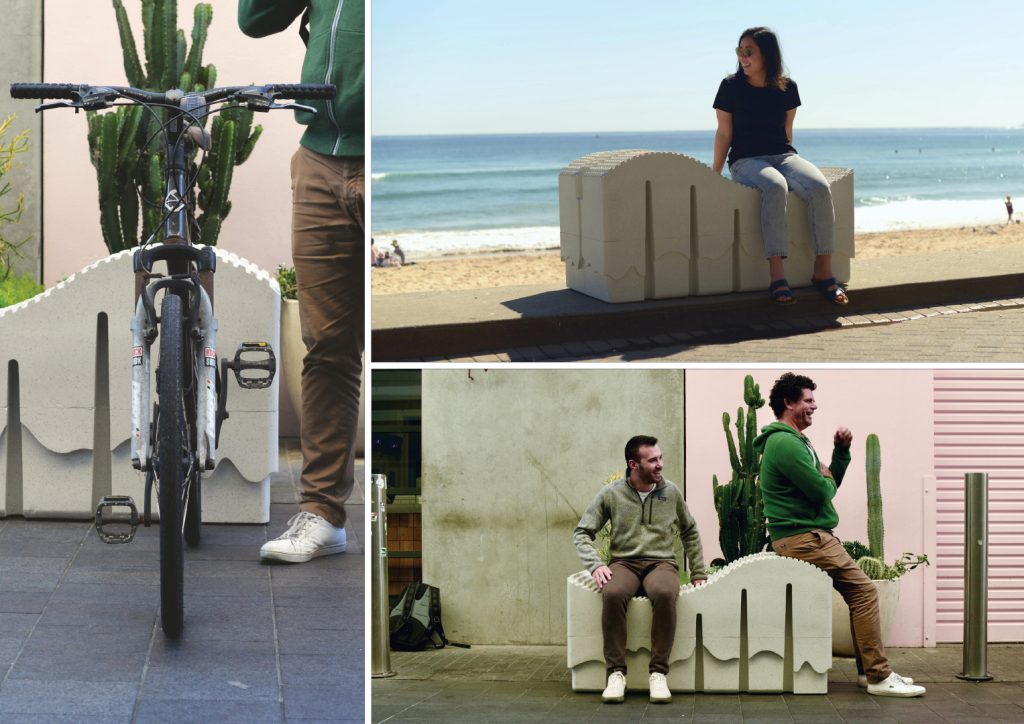 View Full screen
WWELL
Branko Jaric
New generation tactical urban infrastructure
WWELL is a new generation of tactical urban infrastructure: Multi-functional furniture designed for the public realm, with environmental smarts and street cred. Inspired by Sydney's sandstone geology, the modular seating system is designed as a kit of parts that can expand or shrink, according to the setting. The base unit of WWELL is a seat and storage tank for 500 litres of water, while its dimpled surface makes for a therapeutic massage lounge! An umbrella stand, bicycle racks and additional planters complete the pop-up urban pitstop.
A better life for Sydneysiders?
More than just a park bench, WWELL relaxes people with an energising massage while they sit. The dimpled seat pattern massages muscles and releases myofascial connective tissue. Its contoured surface accommodates several people sitting, or one person reclining for the full therapeutic experience.
Delivering great public space?
WWELL is a pop-up pitstop that's easily locatable along existing promenades and plazas with minimal site preparation, and no excavation or power needed. When filled with water as ballast, WWELL, becomes safe and robust urban infrastructure, perfect for temporary place-making initiatives. It can be used anywhere from the Blue Mountains to the bay, as well as for traffic hardening during major community events.
Transformational?
WWELL is a simple yet featured-packed temporary infrastructure system that gives planners and civic authorities a chance to test master planning ideas for traffic calming and urban wellness strategies, and generate feedback loops to inform more permanent places for healthy and happy people.