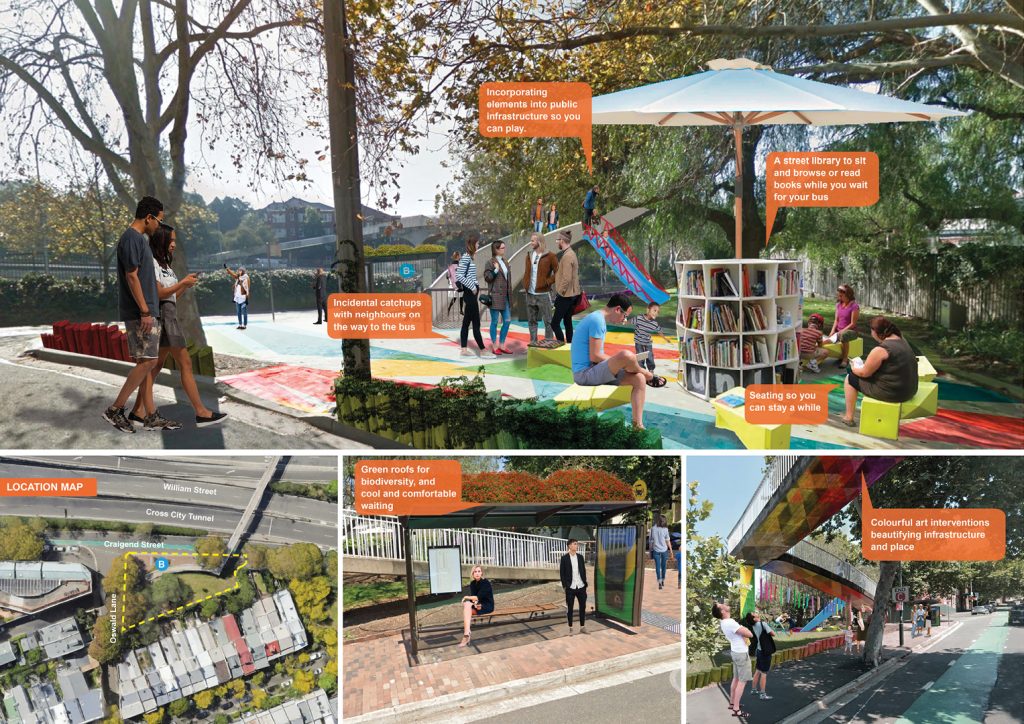 View Full screen
Wonderfully waiting: Community living rooms
Abinaya Rajavelu, Sarah Reilly & Elise O'Ryan
Darlinghurst case study: Reimagining leftover spaces as community living rooms to play and stay.
"Ever waited at a hot boring bus stop? Our idea is to transform uncomfortable bus stops on leftover spaces into activated, playful community living rooms"
Bus stops are often located on busy main roads adjacent to pieces of leftover public space with little amenity, recreational or community uses. They can be hot, boring, unsafe for kids, and uncomfortable for older people or people with disability. Our idea is to turn these empty boring spaces into outdoor community living rooms or public facilities, creating a better life for Sydney-siders with places for kids to play, neighbours to connect, and for plants to grow, improving our happiness and health.
This idea delivers a great public space by providing a cool, colourful and beautiful place accessible for all; a place for incidental connections and creation of bonding and bridging social capital – in a location where there are lots of passers-by. This idea brings us public facilities in the outdoors that everyone can access.
Our idea is transformational because it is changing the way we think about leftover spaces and places where we wait. It's changing our view that public facilities (community centres and galleries) should be indoors, and it is transforming our grey public infrastructure into colourful public community living rooms bringing joy and laughter into our days.