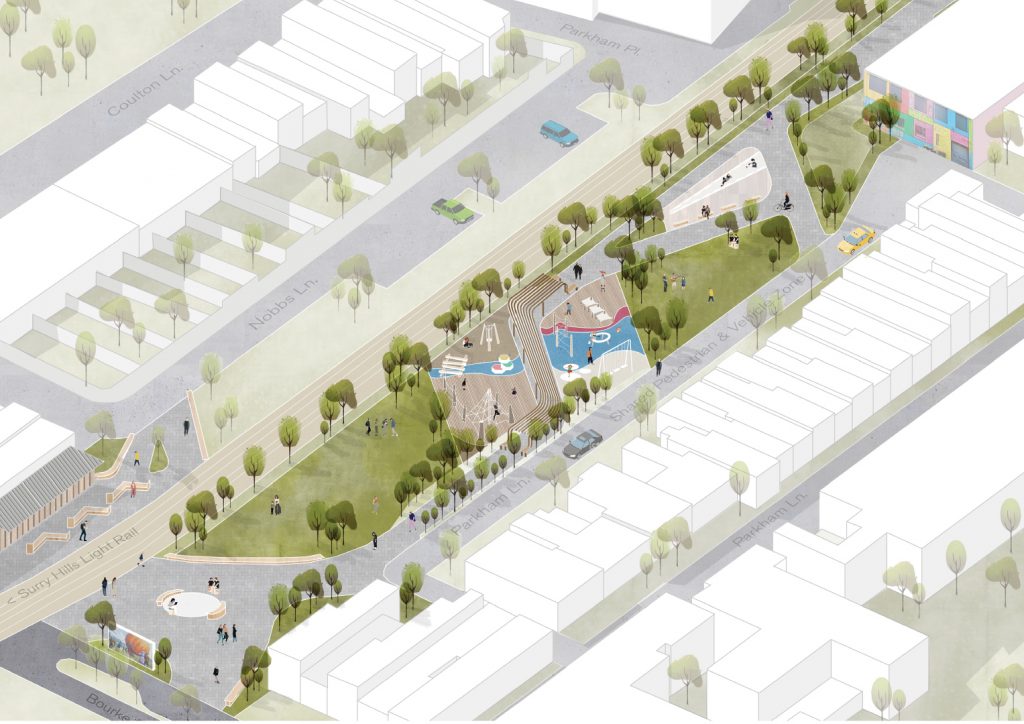 View Full screen
Wimbo-Warami Reserve
Lana Laureles
Wimbo-Warami is a meeting place, a place that stitches communities and increase character in Surry Hills.
Currently known as Wimbo Park, combining "Warami" with the existing title acknowledges and recognises the rightful owners of country. The Dharug language, "Warami", meaning, 'It's good to see you!", is a cheerful greeting to those who meet others in the same place. In unison, Wimbo-Warami Reserve is a reflection of the users within the space. This is where people come to meet, bump into, or engage in recreational activity. A place where connected people spontaneously meet and say, "it's good to see you!".
Wimbo-Warami Reserve in essence is an ode to the 1940's Wimbo Paddock Mural. Once a recreational area filled with circus tents, tight ropes and hot air balloon lift-offs, it gradually became an underutilised empty parkland. Proposing a tightly designed park and a large, centralised playground resulted in reinvigorating Wimbo-Warami Reserve to enhance Surry Hill's experience and neighbourhood surroundings.
This proposal encompasses the four main qualities of what a great space is:
1) Sociability – Considerations of culture, inclusive and friendly entrances
2) Accessibility – Integrating tight and well-connected paths to and from Surry Hills whilst also considering disability and vehicle access
3) Activity – Incorporating fun, active and engaging environments from integrating new and bustling cafes, playgrounds and retained lawn space
4) Aesthetic – Developing a hybrid aesthetic of the colourful local heritage fabric and natural existing parkland