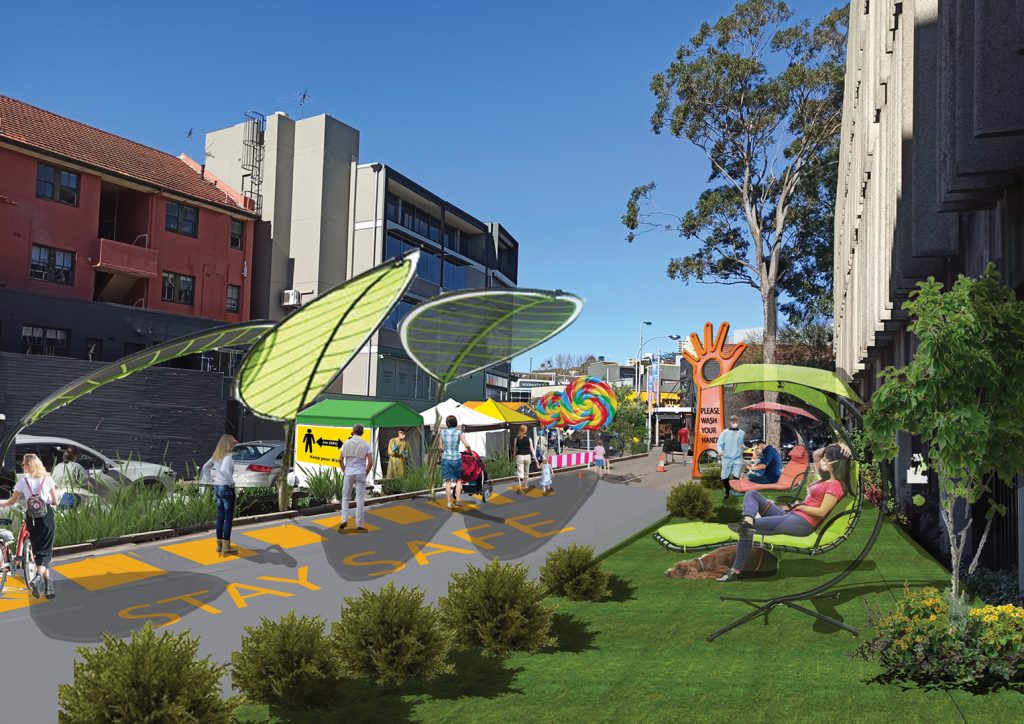 View Full screen
Willy Wonka & the Covid Clinic
Neda Vandchali & the multi-disciplinary team of Woollahra Council
Community wellbeing in a stressful time
Jamberoo Lane in Double Bay is currently being used as a Covid-19 testing centre, which makes the atmosphere tense. The dull, grey street with the absence of colour or trees can all add to the anxiety of residents being tested. This temporary idea aims to provide mental relief to patients while they wait for their turn, by simply adding a touch of colour, art, playfulness and lollies. All this can be created in a pop-up facility while ensuring those being tested adhere to social distancing.
Recognising the limitations of the Covid pandemic on physical interaction, this idea focuses on stimulating the visual and sensory experience of users to evoke feelings of hope and wellness. With the brightly painted laneway, public art elements, covid-safe swings and lighting, the space can be recognised from a distance and feels safe even beyond the official testing hours. The laneway can be accessed by foot, bicycle or car – with each space defined by the subtle use of colour. The visual pause points along the laneway provide an opportunity to take pictures and serve as a temporary distraction to the patients.
This idea allows for the space to be experienced by people from all age groups, and people with special needs – even while sitting in the car. By using art therapy in a public space to manage anxiety, the most common mental health condition in Australia, this idea serves as a forerunner for the future urban design of public spaces.