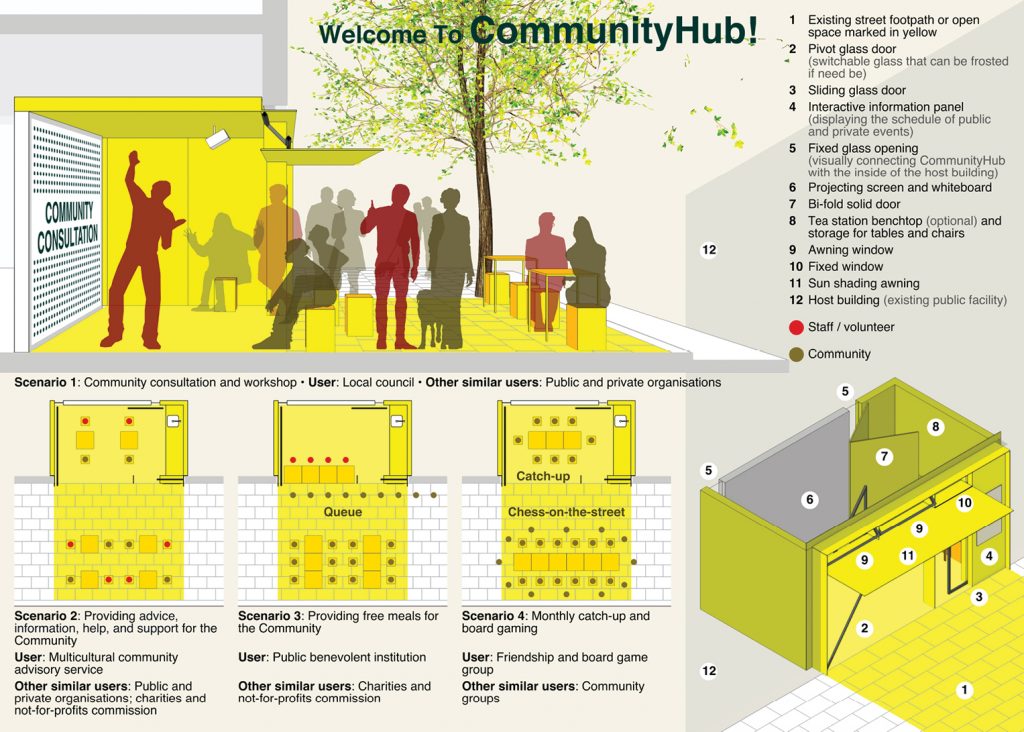 View Full screen
Welcome To CommunityHub!
Terence Yong
A progressive urban prototype that builds a sense of Community and a sense of Place.
A one-of-a-kind public interaction space, CommunityHub consists of a tiny Yellow Box that inserts into a host building, say a public facility, and opens into an adjacent street/open space, to facilitate engagement with, and fosters engagement among, the Community. Its high level of accessibility caters for public and social interactions; its compactness caters for personal and intimate interactions. Naturally lit and ventilated, it operates independently of the host.
CommunityHub tackles the socio-economic impacts of COVID-19 head-on. It addresses social isolation and loneliness, also a perennial urban problem, by enabling one to speak out; seek advice, information, help, and support; and connect with like-minded locals in every imaginable way. It supports small business owners by enabling one, say an Architect, to connect with locals through the likes of speed dating.
Besides a sense of Community, CommunityHub builds a sense of Place. Its compelling aesthetic radiates happiness and optimism; its people-oriented purposes make memories and evoke memories; its so-called round-the-clock operation creates liveliness and natural surveillance.
CommunityHub aspires to reimagine part of a public facility and an adjacent street/open space into an exciting and lively 'urban square' (a community focal point). It advocates fusing architecture and urban design — private and public spaces as well as internal and external spaces — into one. It advocates the design of multifaceted and adaptable architecture and urban spaces. In the name of environmental sustainability, it advocates the use of simple and cost-effective means to revitalise and optimise tired public facilities and under-utilised streets/open spaces.