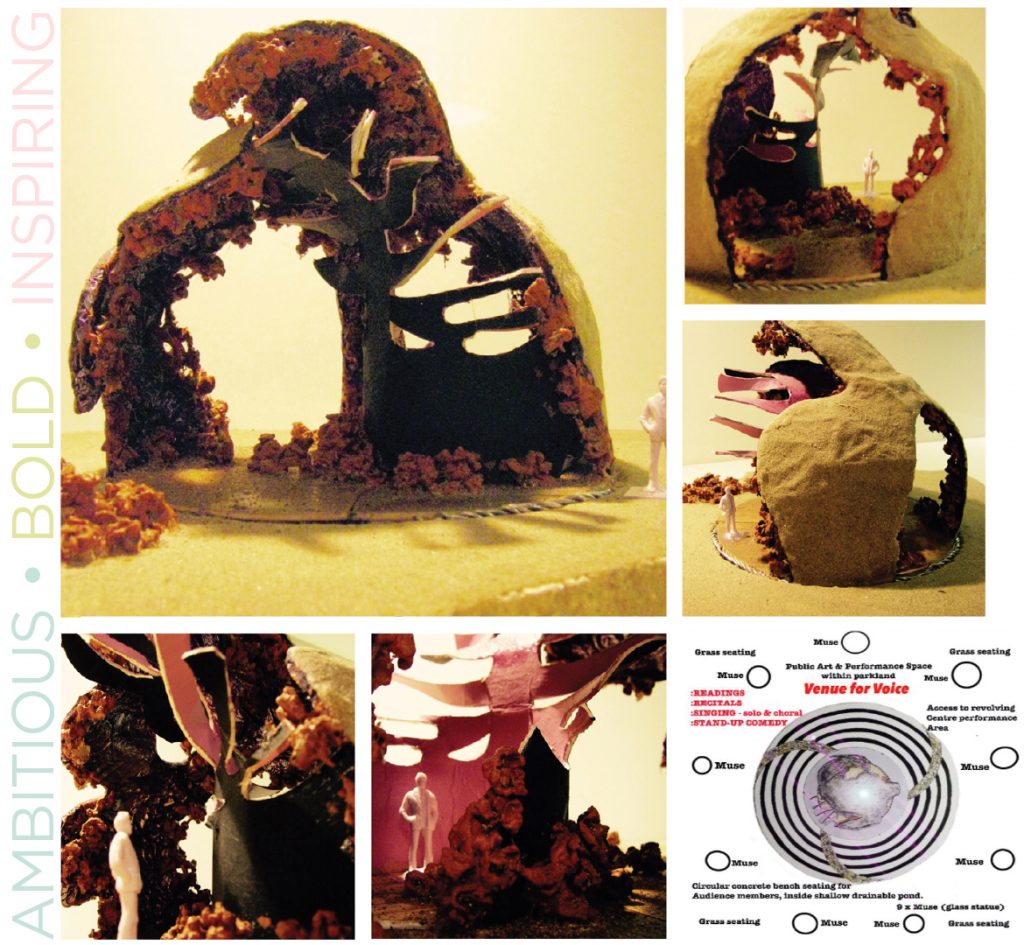 View Full screen
Venue for Voice
John Carroll
Pavilion & Performance Space w. external features: Sinkable Seating • Drainable Pond • Kinetic Wind Sculptures
"Venue For Voice" is a functional installation artwork that will transform underutilised space into an active performance place. The work, inspired by the words of Lord Byron, depicts an abstract couple locked in embrace; a Kiss.
The dome shaped structure, built from concrete and steel, provides seating for up to 150 people, offering performance and visual art space for entertainment, functions, recreation and passive reflection, and create a community focal point – a beating heart destination for the city.
The surfaces of the structure lend themselves to light displays (think Vivid) and allow the changing moods of the day to play out as reflected light on the stainless steel exterior surface (think Cloud Gate).
Our growing inner city residential population and workers lack a 'focal point' for outdoor entertainment and recreation. "Venue for Voice" will provide an inner city reason for people to gather, socialise and play, giving underutilised open spaces a sense of purpose and community.
The unique, structurally impressive design of "Venue For Voice" allows for clever multi-function, while the appealing, organic nature of the design fits perfectly into the natural environment.
"Venue For Voice" transforms a space from 'throughfare' to 'destination' and brings people together to gather and enjoy concerts, recitals, functions and light shows or simply sit in quietly reflection enjoying the ambience of the parklands and the aesthetic beauty of the structure itself.