Competition Winner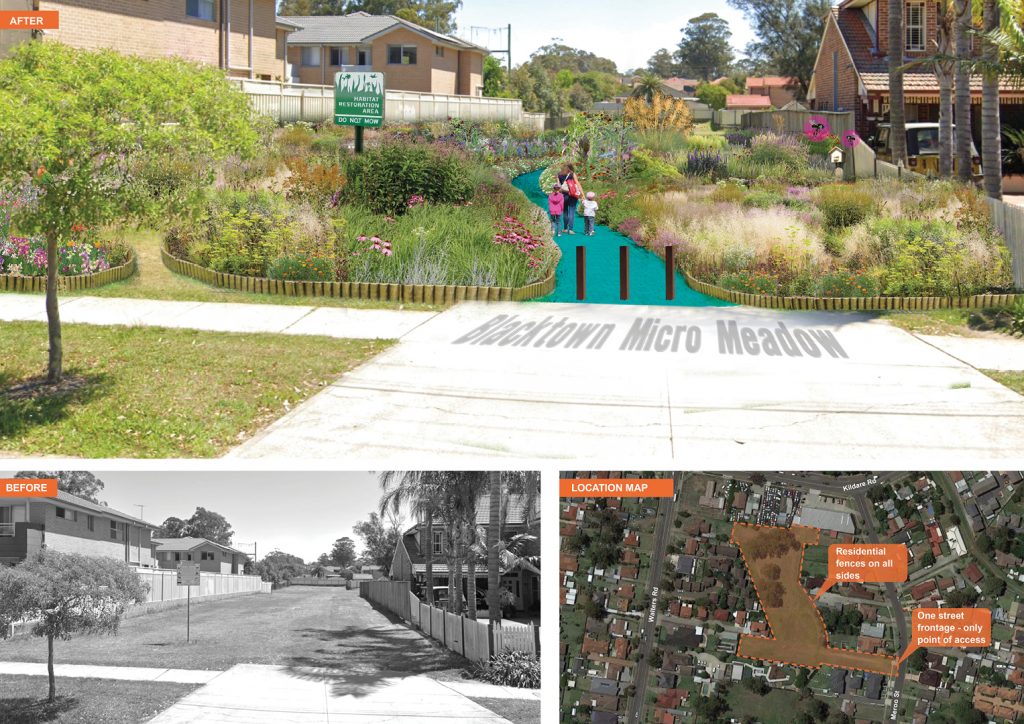 View Full screen
Urban micro-meadows
Abinaya Rajavelu, Sarah Reilly & Elise O'Ryan
A Blacktown case study: Rediscovering underused open space to create resilient, connected and healthy neighbourhoods
"Our idea is to transform residual and underused open space into micro-meadows to connect to nature, protect threatened fauna and flora, beautify our neighbourhoods, and improve health, wellbeing, and safety for residents."
Many Sydney-siders are living in increasingly dense neighbourhoods, with limited access to quality open space or opportunities to connect with nature. In some neighbourhoods, the only open spaces nearby are empty green spaces located on "residual land" that due to their limited street frontage, and location in the middle of residential blocks, serve little benefit to residents and provide limited recreational opportunities. Our idea will create a better life for Sydney-siders by turning these spaces into biodiverse micro-meadows, protecting our flora and fauna, and improving health.
A biodiverse micro-meadow will deliver a resilient public space by creating a habitat for more native flora and fauna to balance the impacts of urbanisation on our natural environments; by providing a comfortable and beautiful place accessible to the whole community to engage with nature; and providing a space where neighbours can meet, socialise and learn. A place they feel proud of.
Our idea is transformational because it is changing the way we think about public space as areas of unencumbered green space – into areas that are beautiful, naturally established, and require minimal intervention or maintenance from humans. They are resilient places aiming to attract native bees, insects, birds and other wildlife; that are drought-tolerant; increase water filtration, and provide a place of respite for humans.