Best Resilient Public Space Idea
Competition Winner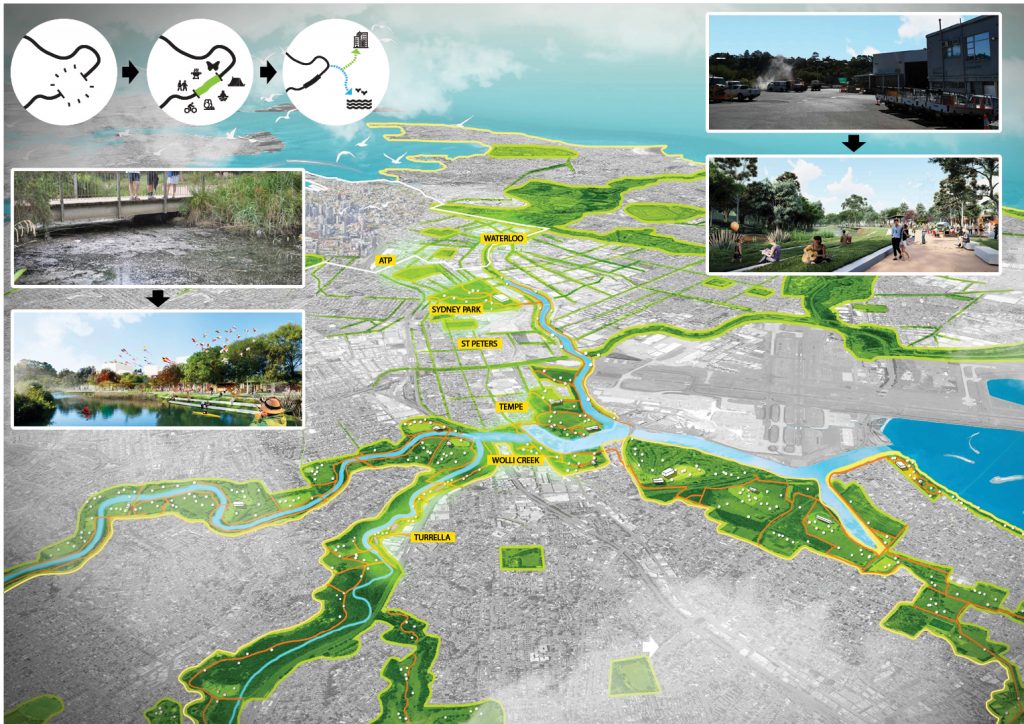 View Full screen
Unlocking South Sydney's Newest Blue-Green Grid
Marc Tarca, Stephen Moore, Antonio Pozzi, Charlie Chen & Oleg Bilotserkevych
Formed by the riparian parklands of Botany Bay, Sydney's active mobility network is now complete.
The Botany Bay Blue-Green Grid rethinks how we use open space and water in South Sydney. The proposal unlocks 42km of continuous walking and cycling trails along the Wolli Creek, Cooks River and Botany Bay corridors. This concept reimagines a network of waterside, greener places with a diversity of programs and place activation opportunities.
The proposal enhances South Sydney's blue-green network by creating more publicly accessible blue-green space within South Sydney and Inner West. The corridors inform the creation of a variety of open spaces, linking local, neighbourhood and district level green spaces.
The Botany Bay blue-green grid revolutionises and repurposes the function of the existing underutilised and inaccessible creek areas and reveals their potential value in contributing to mobility, wellbeing, recreation and economic benefits; particularly through the opening of safe and active access routes to jobs and the innovation economy. A district waterside cycleway will connect the Inner West/South to the City of Sydney via the Alexandra Canal.
The South Sydney Blue Green network will be cherished and loved by locals and tourists alike, particularly as Greater Sydney experiences growth challenges over the coming decades. It seeks to increase the number of homes within 10 minutes walk to quality green, open and public space, in areas of Sydney where open space is already deficient or inaccessible. The proposal will contribute to creating cooler, happier and healthier communities in Sydney.
This proposal opens the door for precinct scale opportunities to reimagine a series of water-oriented urban villages.