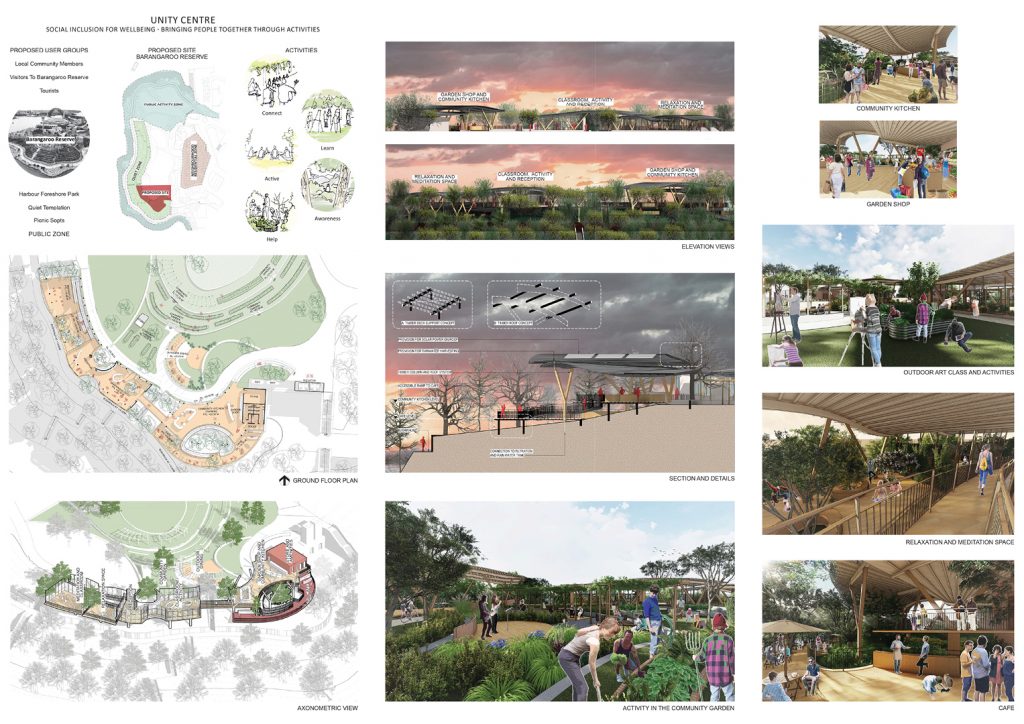 View Full screen
Unity Centre
Radia Tashkina Rifa
Social Inclusion for Wellbeing. Bringing people together through activities
The proposed project will cater to the wellbeing of the Sydneysiders. So, the scheme aims to promote Social Inclusion for Wellbeing by bringing people together through creative, sociable, and relaxing activities. Activities which help us connect, learn, remain active and be aware of our surroundings. The centre may also offer help to the members of the community dealing with unemployment or other social disadvantages by giving opportunities to connect, get trained and employed.
The project will be based on different type of activities and will allow people to learn, exercise, exchange cultural experiences and relax in natural environment. The first group of activities are designed around community gardening, cooking, training, and dining together. The second type of activity is focused on creative learning and the third is based on relaxation, small group exercises and meditation. A public space for learning, making, and selling and involve high level of public engagements.
There is a lack of public space in Sydney that fosters community engagement, relaxation and learning under one program, promoting wellbeing.
This form of a public space can be for everyone – families, friends, visitors, and people with different personalities, extroverts or introverts as there is something for everyone to do and enjoy. The space facilitates to minimize issues caused by social exclusion.
Similar schemes could be promoted in other areas where there is lack of social inclusion and wellness in the current context.
The scheme was developed in a social agency design studio on a Sydney site, Barangaroo.