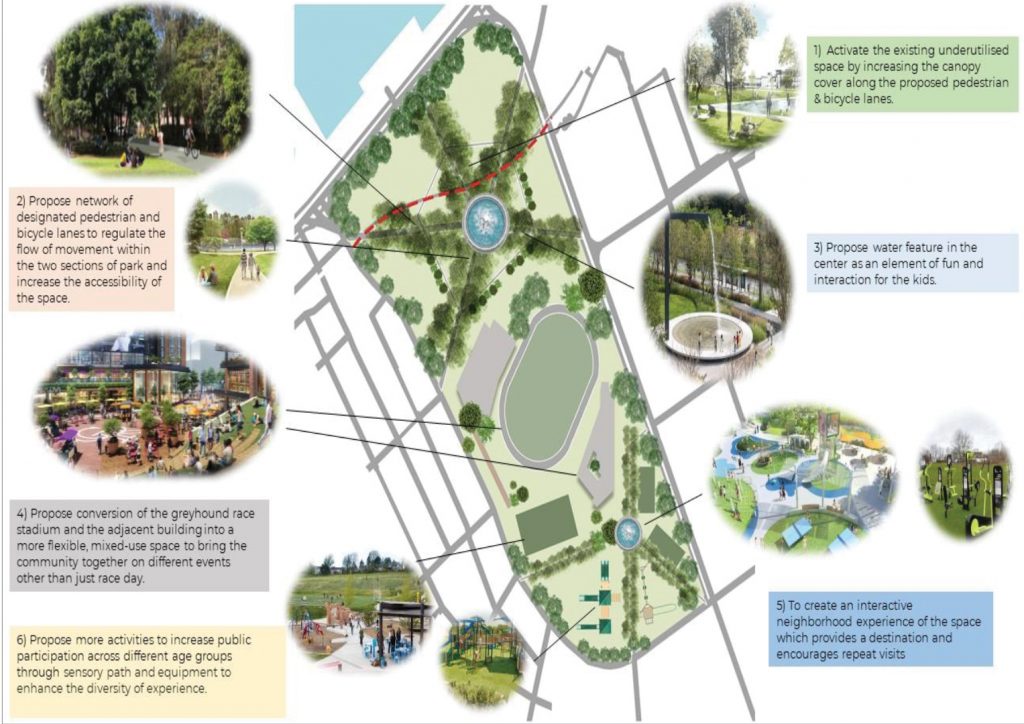 View Full screen
Transforming Wentworth Park
Preet Desai
The Move Towards Planning - A More Resilient Public Space
The year 2020 has been an unprecedented roller-coaster ride that took us through a season of catastrophic bush fires to a fatal health pandemic. With 'work from home' becoming the new normal, the value of public spaces and the way we approach them has changed significantly. Moreover, with the mercury forecasted to rise higher than the last five years this summer, open spaces will play a lead role in the heat-wave mitigation processes.
Wentworth Park nestles between the inner ring suburbs of Glebe and Ultimo with the Sydney Fish Market adjacent to it. The size and its strategic location put the park in a unique position to provide the local community with access to a cool space and also be able to maintain the physical distancing.
Being a local, staying right across the park for more than two years, I feel disconnected from it in terms of safe access to a vast space which has high potential to become a beautiful destination for all categories of the community to rejuvenate. This idea focuses on two broader themes of making the park more accessible for the pedestrians and cyclists by proposing a network of paths in and around the place, and more resilient by providing enriched flora and unified canopy cover.
This idea along with integrated strategic planning, urban design and landscape architecture practices has the potential to develop a resilient public space which can help mitigate the rising temperature and also provide a safe destination to unwind.