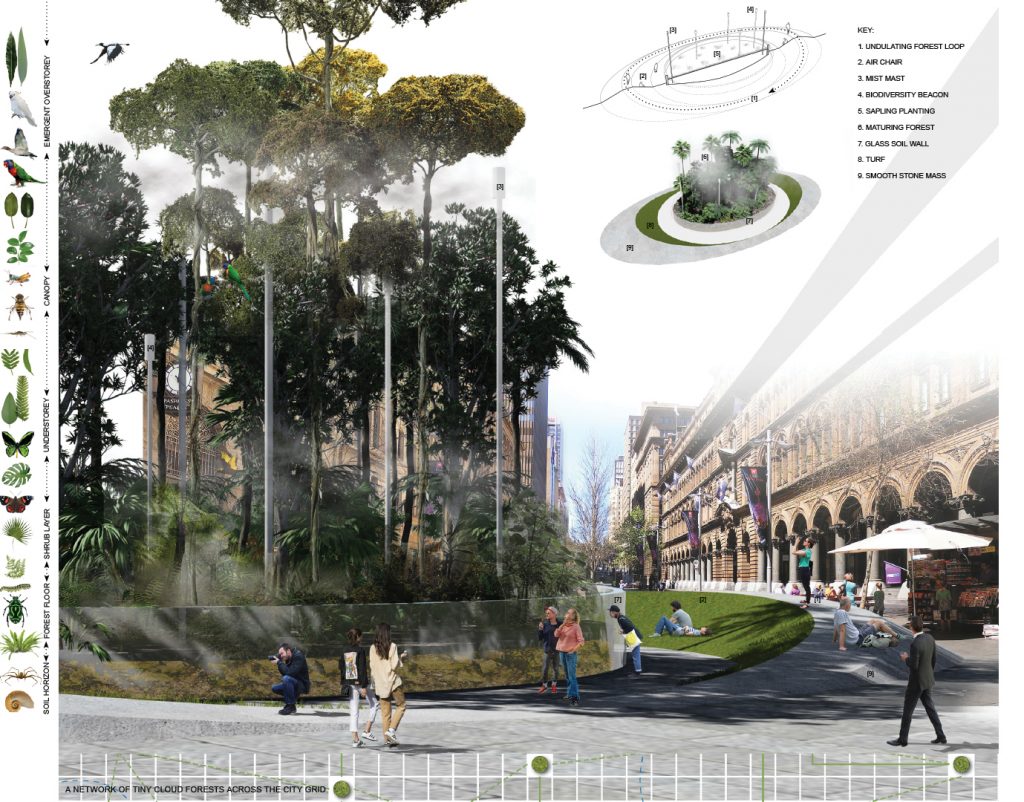 View Full screen
Tiny Cloud Forests
Mark Tyrrell, Dan Sharp, Saneia Norton, Sarah Yates, Swastika Mukherjee, Lorena Simone & Hayley Mulder
One hundred square metres. One hundred species. A network of high performance tiny forests.
Better life for Sydneysiders
The Tiny Cloud Forest Network brings Sydneysiders up close to a thriving, natural rainforest ecosystem. Each 100m2 forest is based on the Miyawaki model of diverse, tightly-planted species, delivering environmental and social benefits within three years.
Delivering great public space
The Tiny Cloud Forest is interactive and inclusive. Budding entomologists can gaze through glass at the busy workings of the forest floor and soil horizon. Historians will engage unsuspecting passers-by with long-winded stories of long-lost species. Creative types can upload playlists and soundscapes in response to the forest setting. Analytical observers can contribute anecdotal data via the mobile app, including flora and fauna sightings. Sydneysiders will delight in the urban theatre of new daily rituals: seeking out different tiny forests, walking the undulations of the meditative forest loop path, timing visits to catch the midday misting or the lighting of the biodiversity beacon at sunset.
Transformational idea
Sydney has a target to plant five million trees by 2030. Our idea delivers a network of functional forest systems, in three years growing at ten times the speed of single trees in conventional urban layouts. Environmental targets can be monitored via a mobile app. With hundreds of plants, insects and microorganisms in each system, the Tiny Cloud Forest Network has the potential to transform Sydney into a leader in the climate and biodiversity response. Each forest is an instant burst of biophilic green delivering social, climatic, biodiversity and air quality benefits that current urban tree planting regimes cannot match.