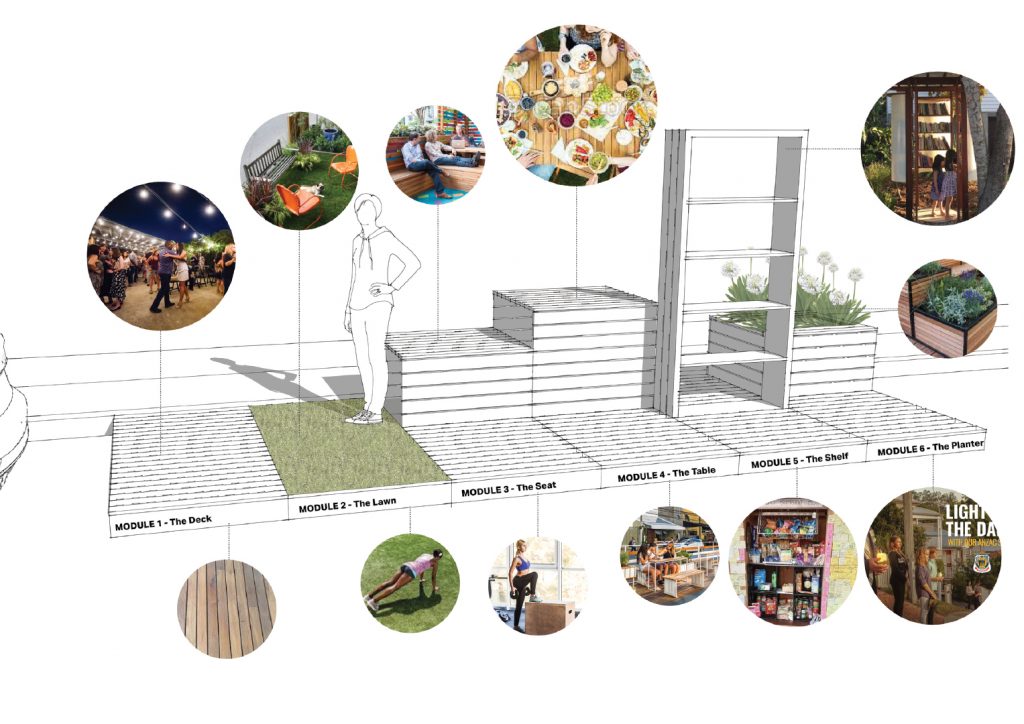 View Full screen
The YARDlet
Adam Jeffery, Nadia Greatbatch, Jing Weng, Paul Angus
The YARDlet defines a sense of place in neighbourhoods and brings vibrancy to the area.
The YARDlet is a modular system used for extending the Australian residential yard into the street. It offers an opportunity to reclaim the road from under-utilised residual space devoted to cars and transform them into spaces.
The YARDlet uses a 'kit of parts' approach by applying various modules that link together to temporarily transform common streetscape spaces such as parking, driveways, medians, verges, and vacant lots. The YARDlet comprises the following modules:
The Deck: a flexible space where you can walk, stand or exercise;
The Lawn: a synthetic turf platform used for a picnic or recreation;
The Seat: used for sitting on and get together with family or friends;
The Table: allows for a gathering, pause for a coffee or afternoon beverage;
The Shelf: an open shelf to be used as a street pantry or communal library;
The Planter: a seat and deep planter box that can accommodate a large shade tree or ideal vegetable garden.
The YARDlet is built out of semi-permanent materials and installed in a way that does not require reconfiguring the existing space in which it is located. It is intended that the YARDlet could be hosted or sponsored by a local business or Council where they could assist in funding the design and build them together with the community.
The YARDlet symbolises the desire to create a more communal, enjoyable, healthy, and vibrant public realm for Sydneysiders, transforming excess street space into a cost-effective small yard.