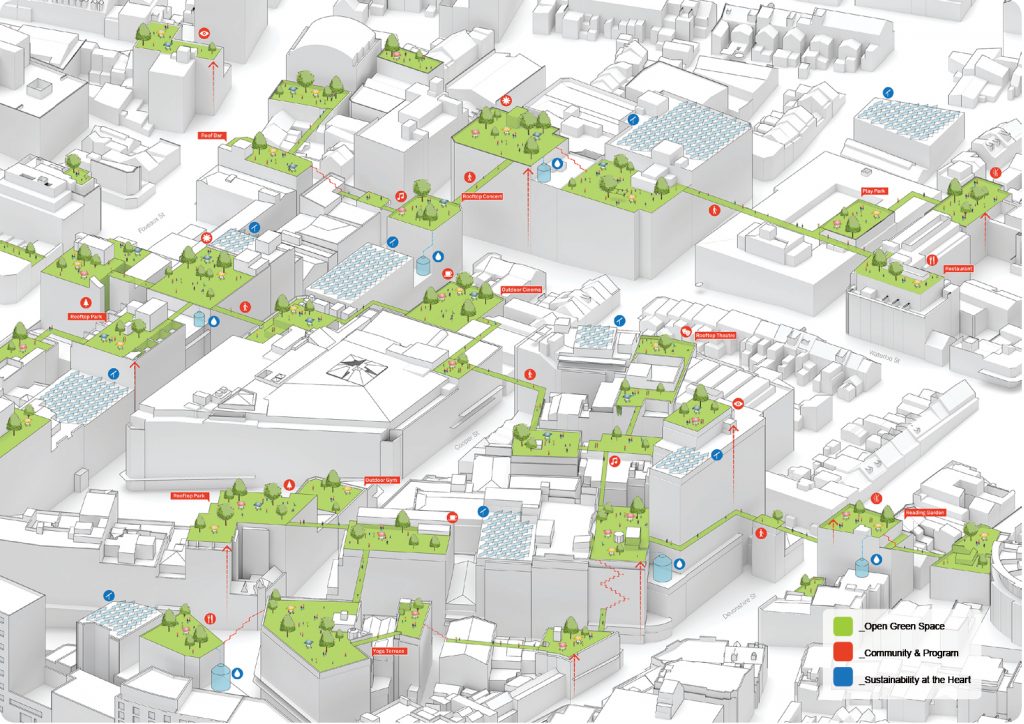 View Full screen
The Urban Patchwork
Yann Frampton, Lara Hutcheson, Rachel Smith & Ann-Liz Hourani (Stantec)
Sydney's Rooftops Transformed Into a Patchwork of Interconnected Self-Sustaining, Community Focused Green Spaces.
The Urban Patchwork creates a better life for Sydneysiders by maximising on the sustainable, social, and economic benefits for a greener, more resilient city. The concept derived is from recent social distancing regulations:
Internal = 1 Person Per-4sqm
External = 1.5m Distancing
With less internal space available, public outdoor spaces have become ever more important for health and wellbeing. The Urban Patchwork is a network of green rooftops linked by high-level walkways to create a city connection similar to New York's 'High Line'. It could be implicated throughout the city, this example located in Surry Hills.
Great public space is delivered through varied community uses. The Urban Patchwork gives people a chance to get to know their neighbours through different organised social activities, bringing communities together. With more people working from home, access to outdoor green space has become imperative.
The concept is transformational through its sustainability and economic benefit for small local businesses. An urban patchwork of green roofs and rooftop photovoltaics provide a holistic approach towards regenerative design. Green roofs improve air quality, biodiversity, urban water management, and help reduce the heat island effect for a more comfortable environment. The rooftop solar also ensures the urban space adaptability towards a carbon-neutral future.
The Urban Patchwork can be managed by a scheme which allows building owners to economically benefit from transforming their rooftop into green open space. This can also be facilitated by leasing rooftops to a franchise of The Urban Patchwork Company.