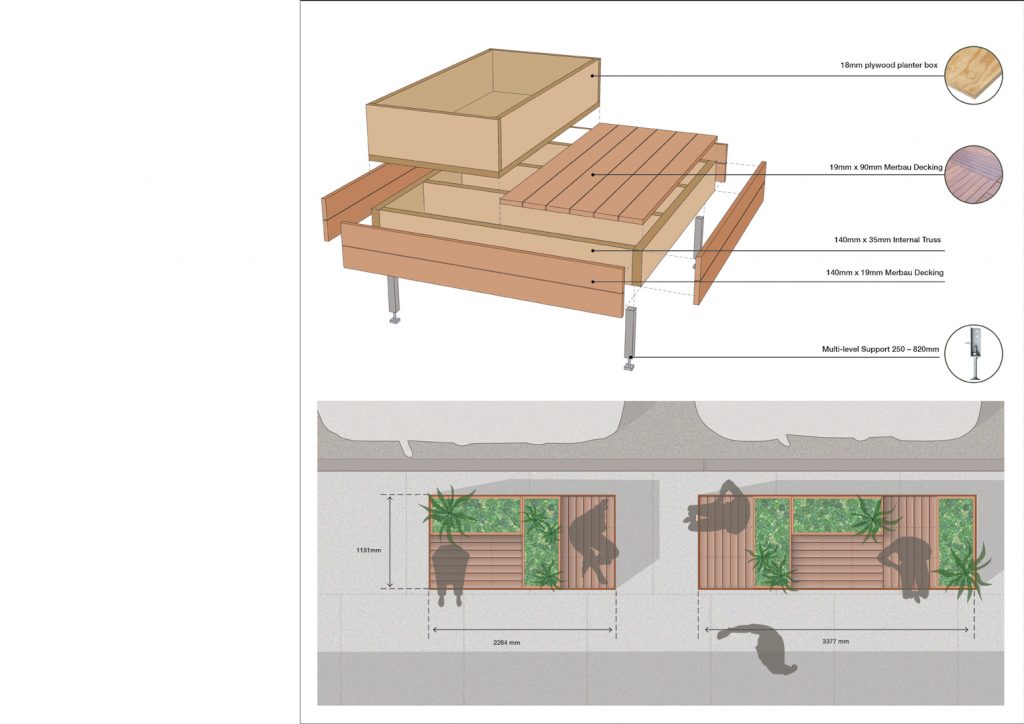 View Full screen
The Temporary Garden Seat
Kate Cavanough
A low-cost and easy-to-build street garden and seat construction manual.
The 'Street Garden and Seat Construction Manual' makes temporary urbanism accessible to the community. With government-endorsed location parameters, design and a construction manual the 'Street Garden and Seat' can be implemented by residents across Sydney with less red tape and at a low cost.
Sydneysiders will enjoy a better life with higher levels of community participation and social interaction. Local residents will be empowered to play a part in fostering connections and contribute to the biodiversity of their neighbourhood.
This project will deliver great public spaces by allowing everyone to create their own Street Garden and Seat in their neighbourhood. Temporary placemaking is widely supported in local communities, but most residents don't know how to conceive or deliver a project. This manual makes it simple. The design is made to the specifications of 'Good Times' modular decking, a product that is cut to size and readily available at most hardware stores across NSW.* It enables the design and construction of street gardens by any person who is handy with some basic tools. The cost for a single unit is a maximum of $380, with the cost decreasing as more units are added.
This idea is transformational, as it enables temporary urbanism to be scaled up across Sydney. Participation is made simple, without the prohibitive cost and construction methods. Any verge with sufficient width or vacant public space can become a place for the community to gather.
*this has not been developed for or in consultation with 'Good Times.'