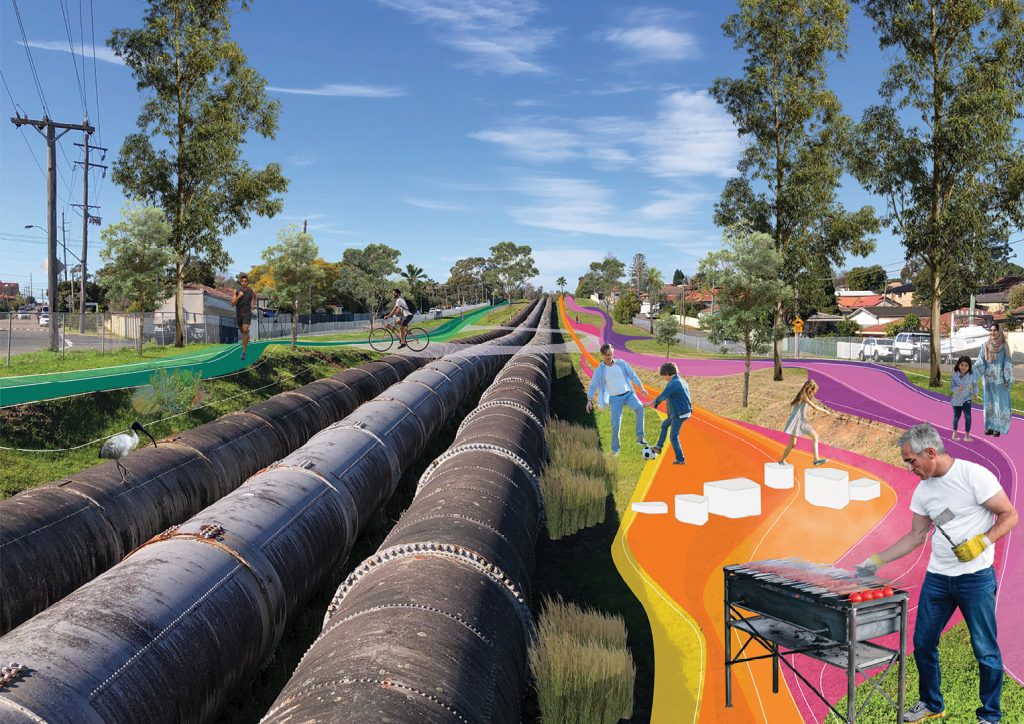 View Full screen
The Pipeline
Adrian Bonanni
Create a linear park by unlocking the potential of an infrastructure corridor through South-West Sydney.
Sydney Water holds a linear reserve through South-West Sydney from Guildford West to Potts Hill (near Bankstown) through Chester Hill, Auburn and Regents Park. The reserve is approximately eight kilometres long and forty metres wide and contains a visible above ground pipeline. The reserve has restricted access to the public and physically separates local communities. It is Sydney's untapped resource.
The Pipeline unifies the divided suburbs creating shared meeting places to support community interaction.
The Pipeline converts the existing underutilised land on either side of the pipeline into publicly accessible open space for both passive and active recreation. This may include pedestrian and cycle paths, plazas, picnic spots, barbeques, playgrounds, sports facilities, community gardens and local event spaces.
The Pipeline's park features will recognise the uniqueness of the existing Sydney Water infrastructure, acknowledging its importance to the functioning of the city.
The Pipeline finds inspiration from Superkilen Park in the Nørrebro district of Copenhagen which was designed to reflect the neighbourhood's cultural and linguistic diversity and promote harmony.
The Pipeline celebrates the cultural backgrounds of the local community by acknowledging the different ways people use open space around the world, from tai chi to bocce to dancing.
The Pipeline provides an opportunity for a community-inclusive design approach, where local residents can contribute their own ideas to shape the design of the park's places and facilities.
The Pipeline links some of Sydney's most significant green spaces from Prospect Reservoir and Western Sydney Parklands to Auburn Botanic Gardens (via Duck River).