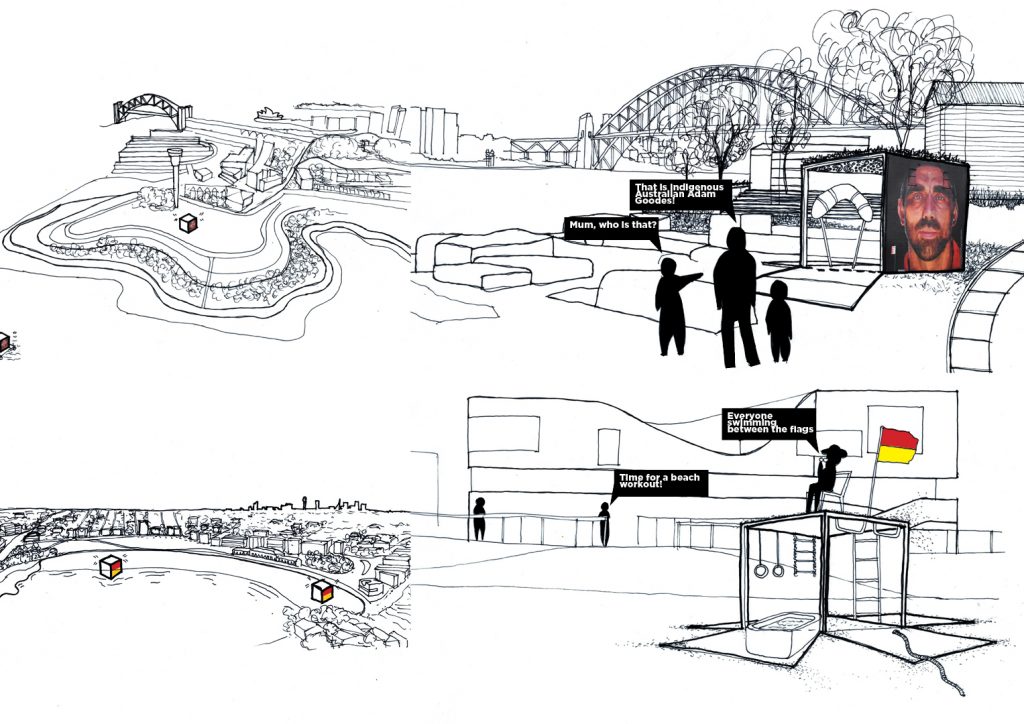 View Full screen
The Pavilion
David Cardamone
A Public facility for the community that can adapt and be a platform to engage.
The Pavilion looks to capture the essence of key public facilities, whether it be the library, gallery or health and wellness community centres and re-imagine how they are delivered to the public.
The Pavilion is an open facility for the people. It provides the platform to change and adapt, to be a public facility that people want to engage with by land or by sea. A facility of the destination yet a facility that can be personalised to any individual needs.
At Bondi, The Pavilion can be a temporary play pool for children to swim in a safe environment, outdoor fitness area for the public or an outpost for the lifeguards at Bondi.
At Barangaroo, The Pavilion transforms into an Indigenous Cultural Learning Centre, where the community can engage and interact with to learn more about Australia's rich indigenous heritage.
As our cities continue to deal with urban sprawl and the challenges of growing populations the 3.5×3.5×3.5m cube can be easily transported to any new surrounding, allowing any individual, neighbourhood, community group or private organisation to engage and utilise the facility.
The Pavilion makes a difference by breaking down the historically fixed, large and expensive infrastructure that is typically associated with public facilities. Re-imagining the notion that the community needs to venture afar to engage with key public infrastructure why can't the infrastructure come to the people or at least provide an avenue to help the government realise its commitment to raise awareness of public spaces