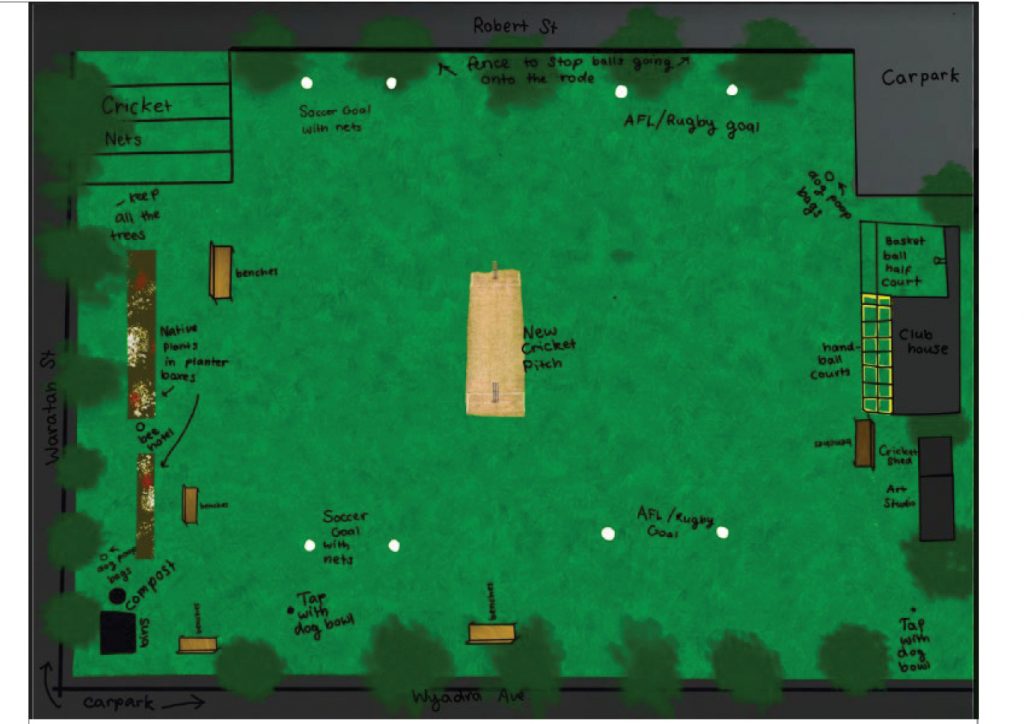 View Full screen
The New and Improved Harbord Park (2)
Year 6 students at Harbord Public School
A way to make Harbord Park a more inviting place to be.
My design will make life better for the community by:
– Adding more seated areas like benches and portable seats that can be moved around the park.
– Native gardens will aim to introduce more wildlife.
– Adding bins and compost bins to keep the area clean.
– Harbord Park will be a nicer place to stay and have a picnic
– Bike racks on each corner of the park.
– Adding a dog bowl and a poop bag dispenser will help our 4 legged friends.
– Keeping the soccer and AFL/rugby fields, but updating the cricket pitch in the centre.
– At the clubhouse on the Oliver street side modify/update the building.
– Adding a half-court basketball and netball area and adding handball courts so it's a multipurpose area.
My idea will provide fine public space by removing the silver seats it will provide more room for better seating ideas and space for nature. Imagine sitting down watching a family member play sport as relax on a picnic blanket surrounded by trees and native plants enjoying your favourite snack.
This new plan for a Harbord Park will completely transform the area though also adding a bee hotel. A bee hotel is a place for bees to live, just a few sticks or a log with small holes can be the perfect place for bees.
My design will make Harbord Park a more exciting place to be and hang out at.