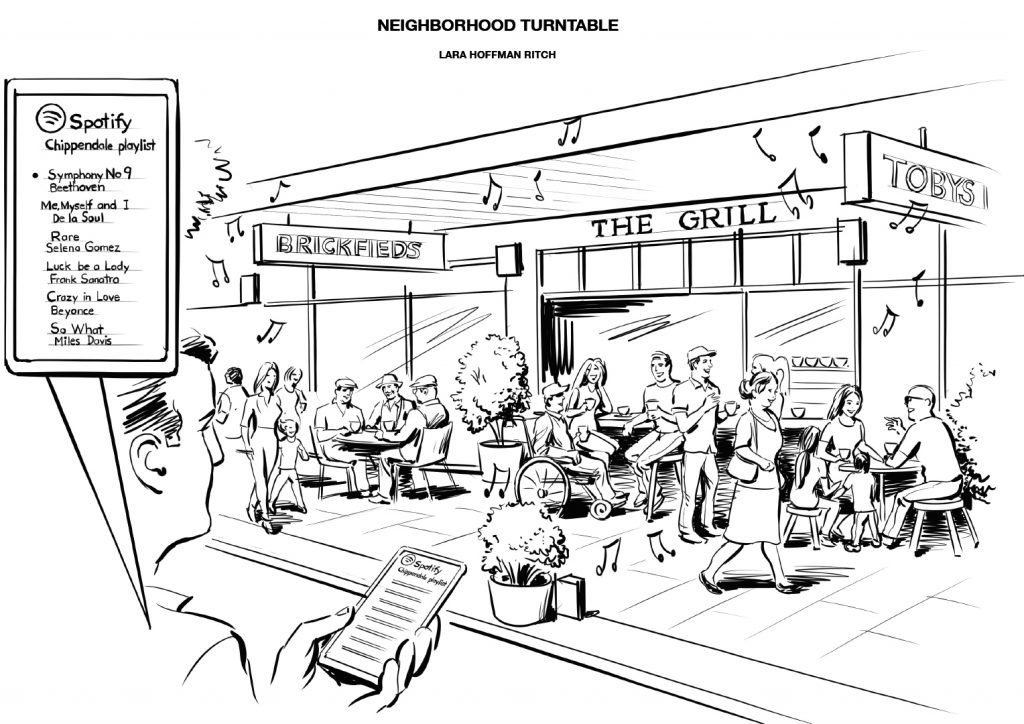 View Full screen
THE NEIGHBORHOOD TURNTABLE
Lara Hoffman
Bringing village hubs to life and people of all ages together, through music.
Since COVID, there's been a quiet heaviness in the air. Knowing we can't attend live music events for the unforeseeable future has reinforced this mood. Music has a cross-generational appeal that brings any environment to life. This idea uses music to not only uplift the energy in our public spaces but also enhance community connection.
Great public spaces are multi-sensory and this idea uses music to bring the social experience to life while drawing people to local businesses. To do this:
1) Install a speaker system within key outdoor shopping villages of communities where people of all ages gather to socialize and carry out their daily tasks.
2) Once installed, set up a collaborative neighbourhood playlist on the popular digital music service Spotify, where "there's no limit on how many people can contribute to one playlist" and "you don't need a premium subscription to participate in a collaborative playlist." Each neighbourhood curates its own playlist e.g. The Rose Bay Playlist, The Chippendale Playlist. Whoever lives in these communities can take part by selecting songs that suit their taste, adding to the neighbourhood turntable. Music is played through the speakers at high traffic times throughout the day.
Going to these musical hubs gives people a sense of excitement to discover new music, they feel like they're connecting with their neighbours in a creative way and the mood in the air is lighter and more energized for ALL ages. In one-hour people can hear a range of tunes from Beethoven to the Beastie Boys.