Best Public Facility Idea
Competition Winner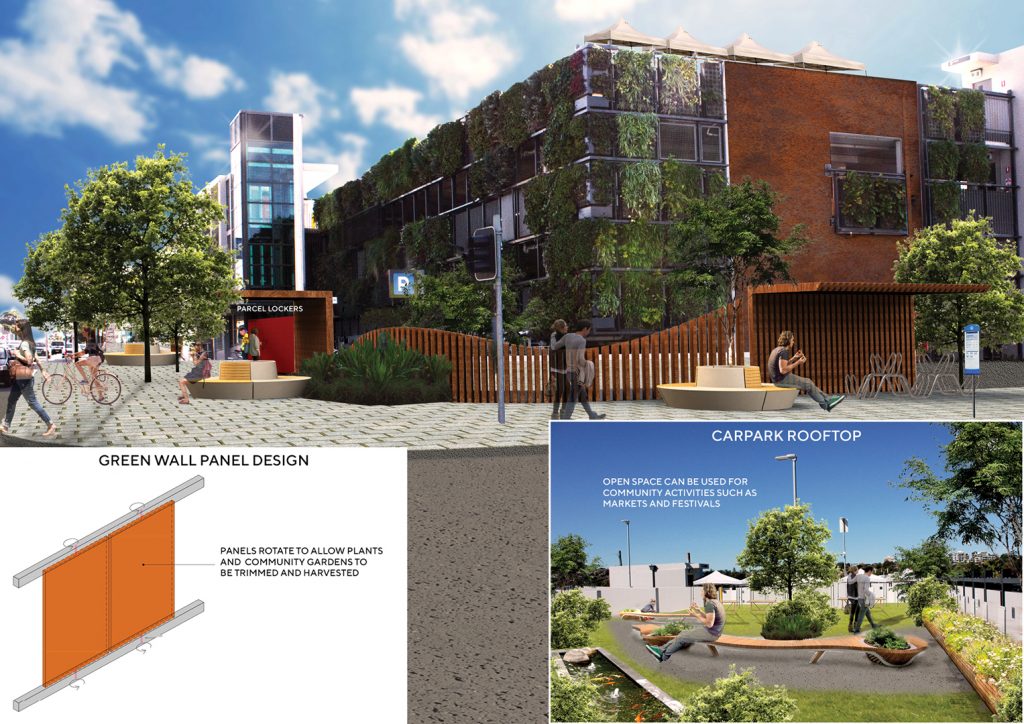 View Full screen
The Modern Carpark
Kevin Jain, Tash Velkou, Van Tran
Rethinking How We Perceive And Utilise Urban Infrastructure
Many local government agencies are facing a situation where existing carparks are aging poorly, reaching their end of life and/or no longer fit into the area's streetscape masterplan. Additionally, post COVID-19, there will be a reluctance to use public transport leading to an increase in usage of carparks. Therefore, these public facilities are ideal locations to be re-envisioned into spaces greater than a place for cars to park.
The modern carpark should be considered as an urban interchange for people to access a variety of activation zones. These activation zones will not just affect the commuter journey but also the way the surrounding precinct is portrayed and used.
The modern carpark will become a hotspot with facilities like bike and ride-sharing areas, parcel pickup lockers, community arts and culture spaces, and open space for people to socialise and relax. Our design encompasses a community-managed green space where the wall panels can swivel offering a place for plants to grow. We feel this is a great way for community interaction, participation and a form of interactive art.
As part of this project, we wanted to understand the importance of the features in the carpark. Qualitative research was undertaken with 30 participants. 66% of respondents rated green space in public spaces the most important feature with the remaining 34% rating it 4/5 in importance. This research helped us understand how important green space is to the community and that it is key for delivering a great public space.