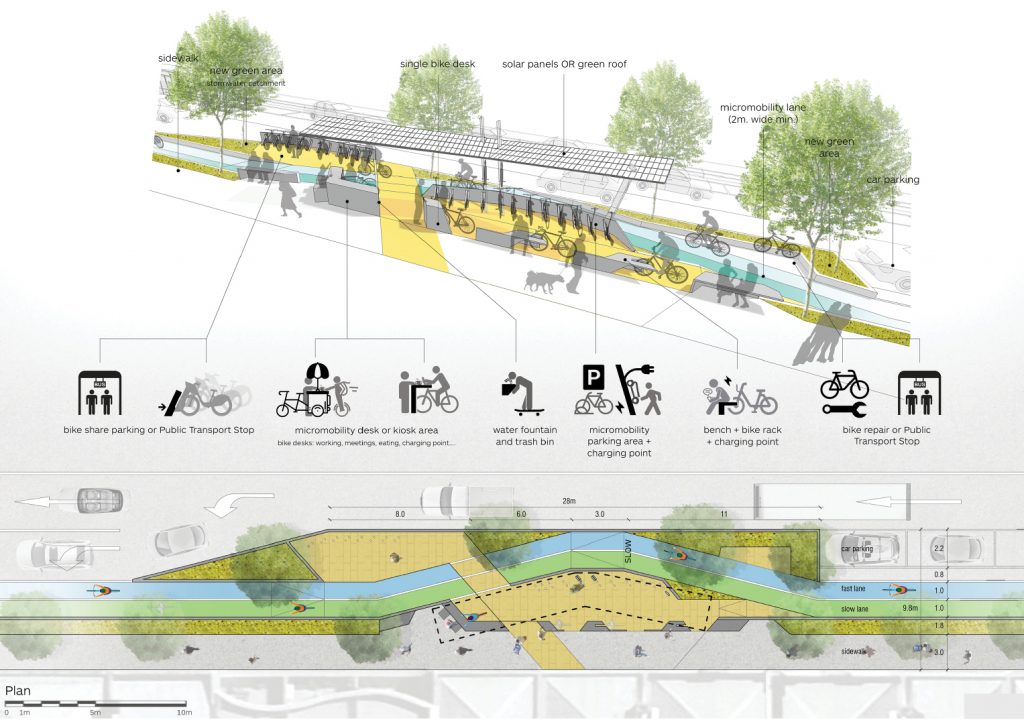 View Full screen
The Micro Plaza
Andrew Guthrie, Ben Thomson, Rebecca Bailey, Erica Orfanos, Gokhan Karpat and Ariel Utz Wirnsberger
The Micro Plaza enables a flexible modular design approach to public space and active transport.
The battle for the kerb is underway. Bicycle infrastructure, dockless mobility vehicles and increasing activated frontage of buildings are pushing the finite space to its limits. The Micro Plaza concept facilitates the rebalancing of the road reserve to deliver for all users.
Our aim for the Micro Plaza concept is to create a set of universal design principles that can be implemented in any appropriate streetscape and then to apply these principles to the trial corridors as a testing mechanism. The adaptability of the concept enables the implementation of a customised Micro Plaza in streets across Sydney, responding to the unique environments of each location.
We believe that designing a 'street for the future', where the dynamics between movement and place are harmoniously brought together, is critical. The four overarching design principles of the Micro Plaza, Accommodating Micromobility, Encouraging Interaction and Activation, Reshaping the Linear Geometry and Creating Flexible Modules, cater to the different contextual demands of varied streetscapes.
The ultimate purpose of the Micro Plaza is to provide the commuter with a place to briefly pause, park their e-scooter, pump their tyres and interact with other street users. It is simultaneously a space for pedestrians to interact, take a seat, find shade, rent an e-bike or catch a bus.
The Micro Plaza is not only a design solution to answer the challenge of urban rights-of-way, but it also generates an innovative, integrated space on our streets for gathering, interacting and spreading street activation at the kerbside.