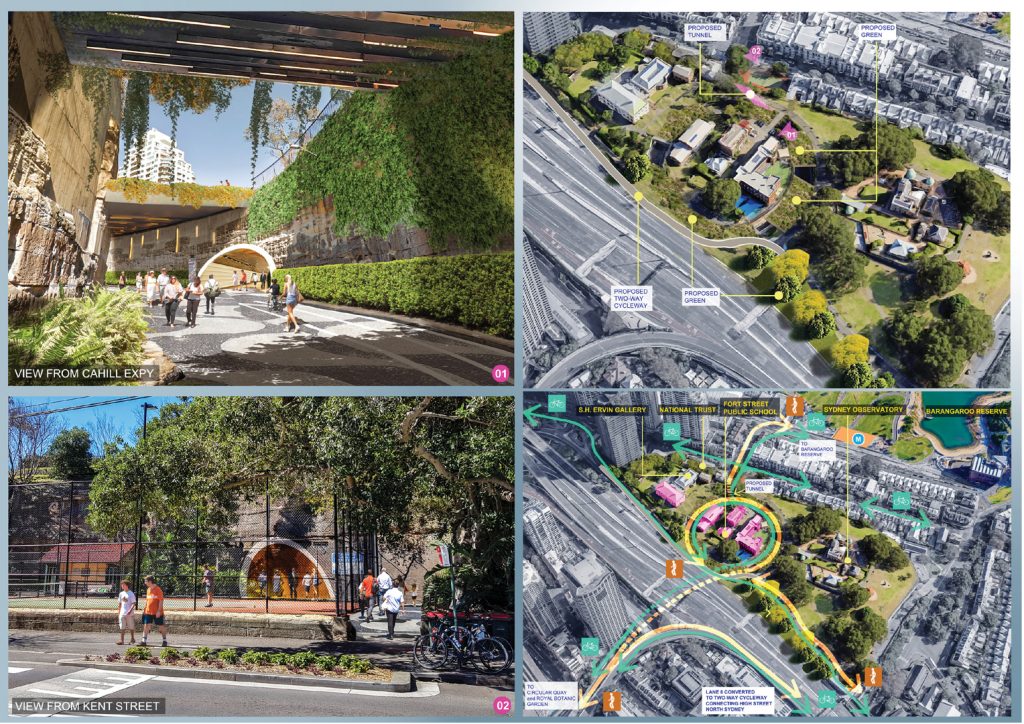 View Full screen
The Healing of The Hill
Nigel Dickson, Luke Hiorns, Carlo Pascaran, Anne Warr & John McInerney
Becoming Sydney's Foremost Education Precinct
Observatory Hill, majestically rising above Millers Point and The Rocks, is a favourite spot for tourists and locals to view the harbour and the city that surrounds it.
Having been annexed and chopped about for the Sydney Harbour Bridge and then the Cahill Expressway, its cultural gems are hidden and hard to find; – the former Signal Station (1847) and Sydney Observatory (1858), now the Museum of Applied Arts & Sciences (MAAS), Fort Street Public School (1848), The National Trust Centre, SH Ervin Gallery, shop and café.
Stage 4 sees Observatory Hill being healed of its deep circular gash and united above ground by a series of green bridges covering the cut. It brings the Hill's hidden gems together to become Sydney's foremost education precinct, celebrating Science and Technology at MAAS, School Education and Environmental Education at Fort Street Public School, Arts at the SH Ervin Gallery, Heritage at The National Trust Centre and International Affairs at Glover Cottages.
Imagine the Cahill Expressway loop, once occupied by cars and trucks now becoming a sanctuary for pedestrians, cyclists and artists. Parents can bring their children safely to school, while tourists can easily access the cultural gems of Sydney from The Domain through to Darling Harbour away from Expressway traffic.
Imagine the expanding school no longer confined within the constraints of the expressway loop, but being able to re-occupy its former school buildings and grounds to the south, with the National Trust moving to Richmond Villa on Kent Street.