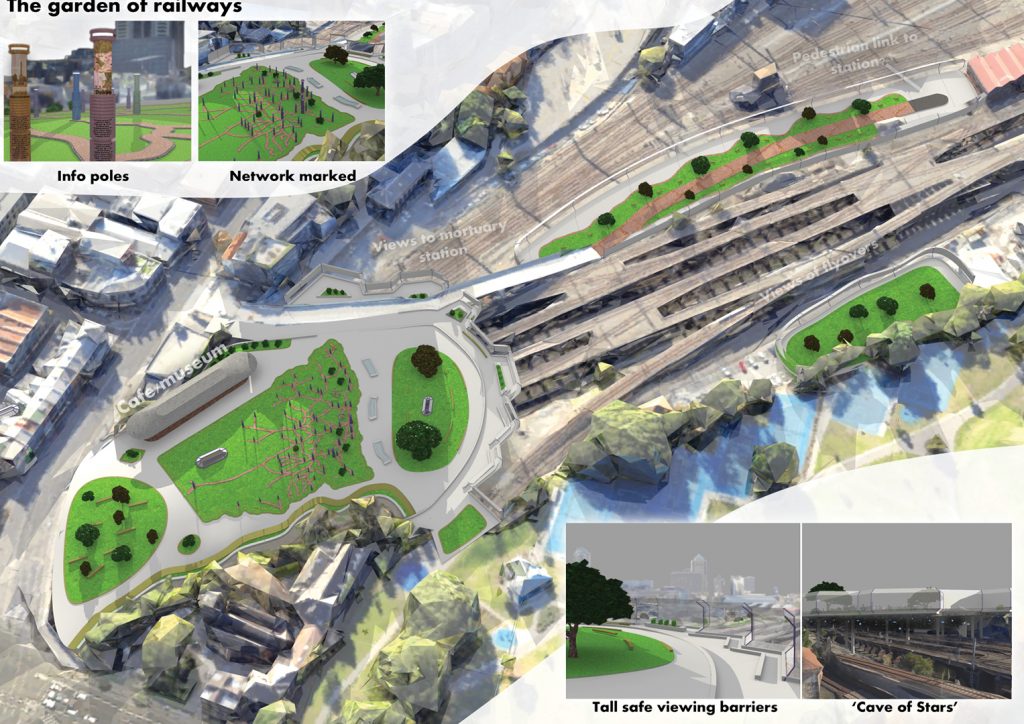 View Full screen
The garden of railways
Thomas Walder
A space which celebrates the railway
Often, the railway is considered a dead space. A gap, or a scar on the landscape. But the railways can also be seen as connective tissue – they link distant places, stretching to the far reaches of the state. Railways also make a dynamic space, full of movement and change. This the most true at central station, where my proposal takes place.
My idea is to create a park over the western end of central's rail yard, leaving the rest open to the air. This park would have two main features. The first, is to create a viewing platform looking out over the rails, allowing people to watch the comings and goings of central's platforms, and its ingenious system of flyovers. This would be a great draw for railway enthusiasts and families with small children. The second is to create a garden which represents the state's past and current network of rail lines. Key towns and locations can be represented by informational poles, and the plantings could reflect the state's terrain and vegetation types. Like the railway, this garden would bring a bit of the country to us.
Complimenting and activating the site, a combination café and rail museum would occupy the north. Small openings allow visitors to peak at the rails below, a space which would be lit with coloured LEDs. There's potential, for this to be a new western entrance to the station, give new views of the mortuary station, and expand Prince Alfred Park's recreational capacity.