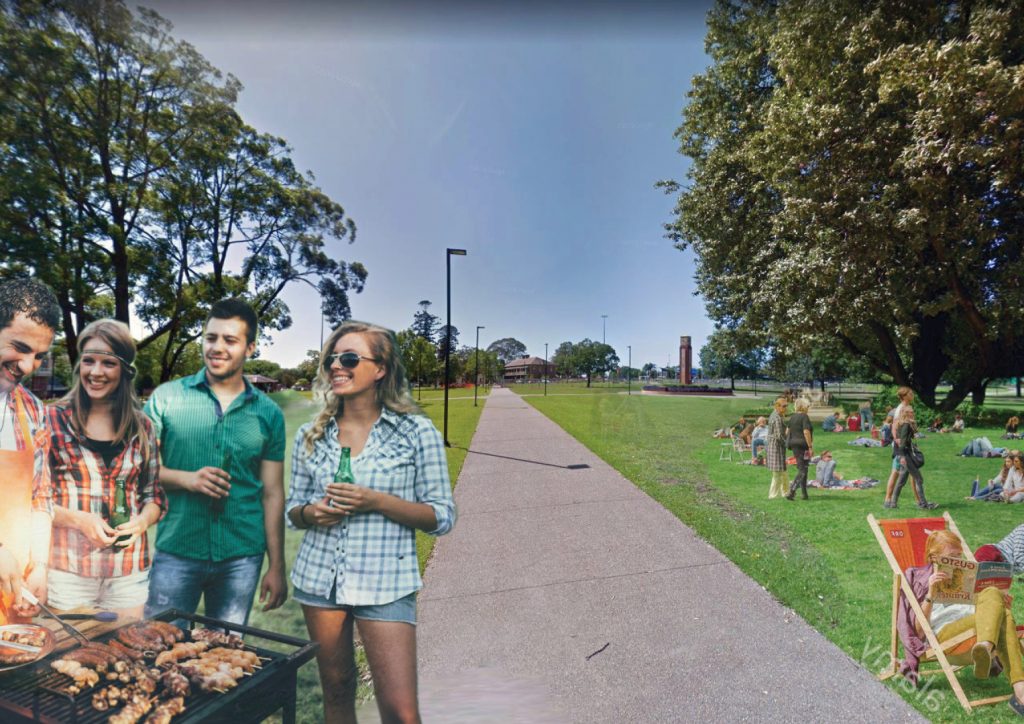 View Full screen
The Forgotten Park
Sally Hsu
Reinvigorate Abandoned Parks through a great Australian Barbecue
Local parks are a great asset for all, giving community residents the ability to relax, work, or play. Parks help residents live a healthier life. Whether big or small, parks improve physical and psychological health, strengthen communities and make the local community a more attractive place. $1 spent on park maintenance equates to $3 savings in healthcare.1
Bigge Park, in Liverpool, is a park located on the peripheral of a thriving second city, within proximity to services, education, retail and restaurants. The park itself contains a new playground with water activities and tennis courts. Yet the park is often quite due to lack of passive surveillance around the perimeter of the park that is normally created by the fine-grain program.
The park can benefit from the inclusion of active programs that begin to provide scales and amenities within the 3.5 hectares of parkland. Incorporating BBQ and picnic shelter will offer community members a reason to stay at the park. A family BBQ is a quintessential Australian identity – think of the BBQ with your family and friends to celebrate events and festivals.
Parks are critical to the psyche and heart of communities and BBQ areas give everyone a reason to spend more hours at the park. Seeing local families at the park changes the community attitude about the safety of the park. Seeing your fellow community members laugh, play and relax in a park should make you feel safe and attracts you to rest and play in the park.