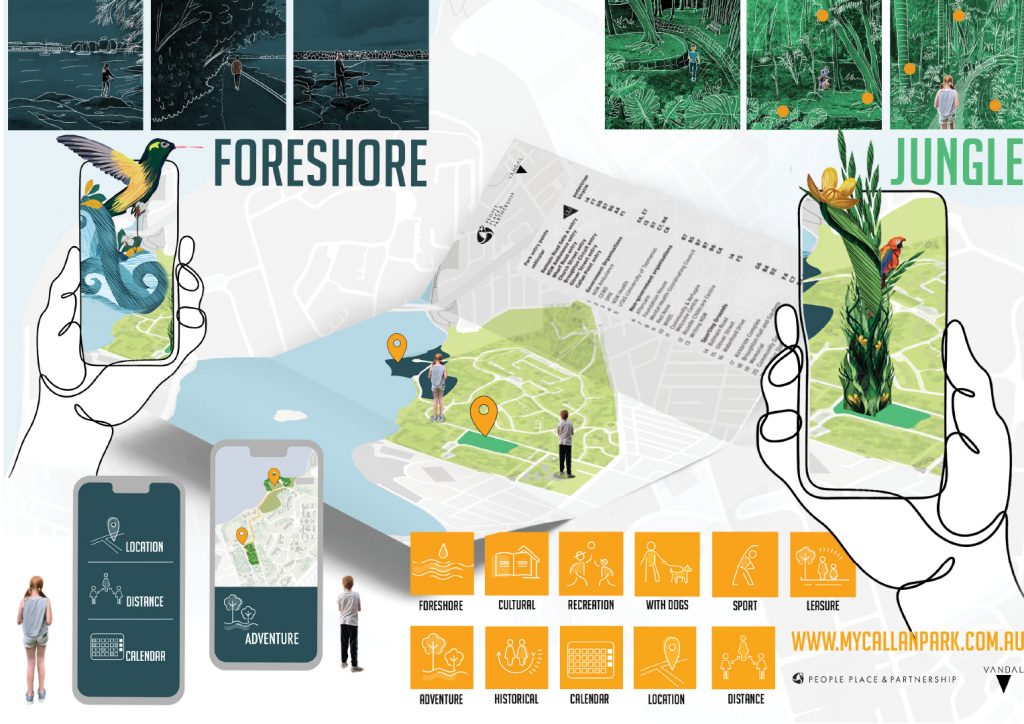 View Full screen
The Callan Park Placemaking Experience
Jo Kelly, Emile Rademeyer
Combine physical and digital placemaking to create a unique, educational, augmented reality experience at Callan Park.
Located in Sydney's inner west on the Parramatta River, historic Callan Park offers 61 hectares of parkland, sporting grounds and green space.
The draft Callan Park Landscape Structure Plan is guiding Callan Park's transition to an iconic, functional and accessible urban parkland that celebrates and treasures its unique heritage and waterfront location.
Our placemaking idea is to incorporate the Landscape Structure Plan and identify key activation areas within the park.
Today's public expects tailored experiences that enhance both physical and digital interactions.
The areas identified will harness the combined strength of both physical, and digital placemaking. The initial two areas identified for digital placemaking and activation are the foreshore and a unique hidden "jungle" area indicated in our imagery.
By harnessing the power and success of the local community interest, augmented reality gamification (eg. Pokemon Go), a digital Park Ranger / Tour Guide character, aptly named 'Callan', will help you explore the special treasured inner west space, educating the visitor about the hidden treasures, flora, fauna, recreation areas and cultural and historic significance of the park.
The successful application of the digital placemaking experience will combine the physical and digital activation elements with the ability to incorporate social media sharing of the unique experience. 'Digital treasures' can be unlocked, shortcuts can be discovered and fun fauna and flora facts are to be uncovered in a seamless augmented reality experience.
This parkland is an inner west treasure and we aim to showcase its charm.
ENTICE. ENTER. ENGAGE. EXIT. EXTEND.