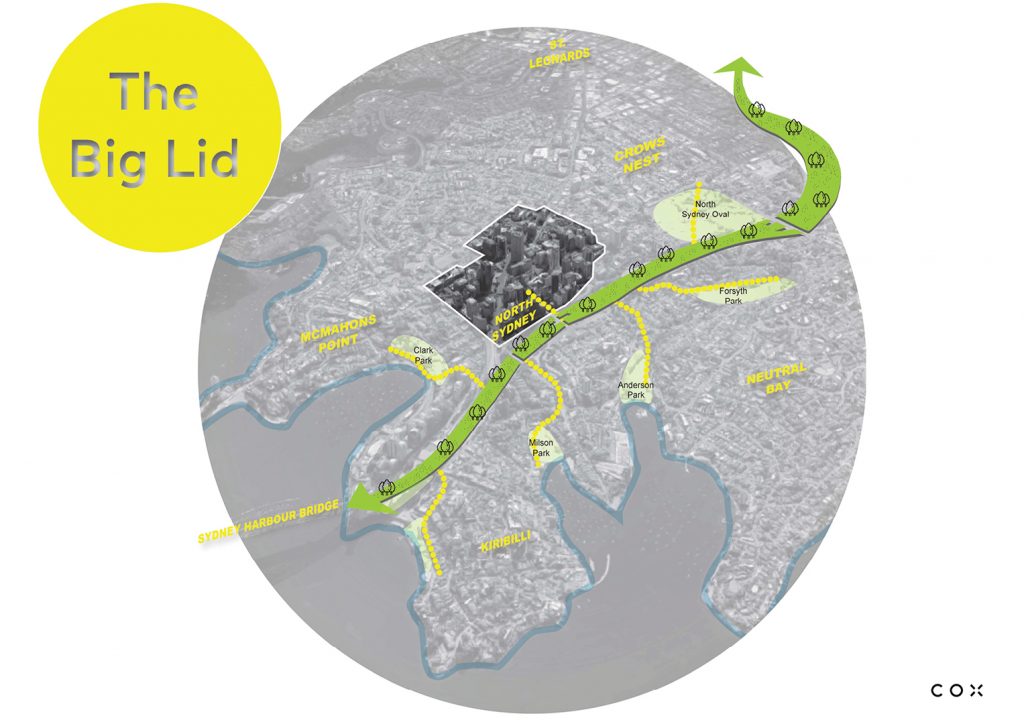 View Full screen
The Big Lid
Cox Architecture
Covering the Bradfield Highway with a green spine
The 'Big Lid' will transform a highway into a continuous, accessible and connected public open space and ecological corridor for northern Sydney. By covering the Warringah Freeway/Gore Hill Freeway with a landscaped "lid", an extensive green spine could be reinstated, providing connectivity for the community as well as regional fauna and flora ecosystems.
The Big Lid will reconnect the disconnected communities of the lower north shore whilst weaving together the blue, green ochre grid of Sydney's north. The Big Lid can connect several isolated green spaces in northern Sydney including Anderson Park, Milson Park, Clark Park, Warringah Park, St Leonards Park, Cammeray Golf Course and Forsyth Park. It will also provide much needed green space for the workers and residents of the North Sydney CBD. Additionally, covering the freeway will reduce air and noise pollution for surrounding communities, and reduce urban heat island impacts by replacing asphalt with trees!
The freeway sits within a cutting, enabling a landscaped deck to be delivered "at grade" connected to the adjacent communities.
Delivering an expansive area of public spaces of up to 25 hectares, a continuous green corridor that can be used for active and passive recreation, active transport and to support environmental biodiversity and increased urban canopy cover.
The Big Lid will reimagine an infrastructure corridor as an environmental and social corridor for the community. It could be a pilot program for a number of road corridors across Sydney to create a connected and green Sydney.