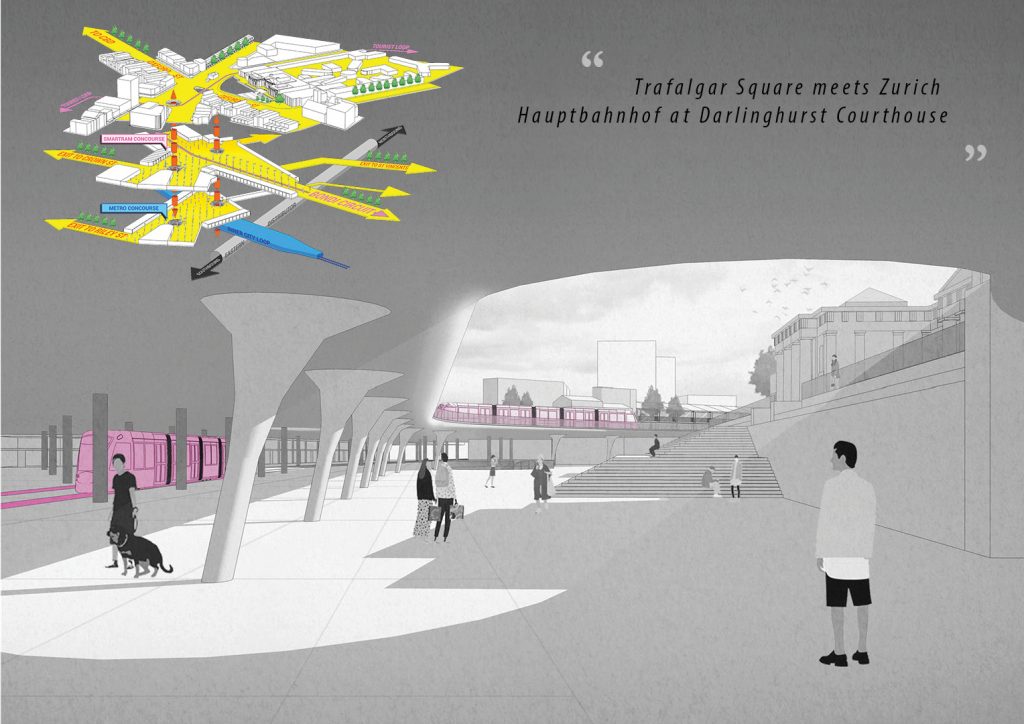 View Full screen
Taylor Square Interchange
Peter Willett, Sarah Gan-Brown, Lorraine Yuelei Li, Cindy Lin and Jessica Yue Wang
Reclaim public space for people!
As a stop on the extension of Metro West line, Taylor Square is a prime example of how a transport interchange could re-activate and energise public space. The proposed intervention focuses on an existing landmark, Darlinghurst Courthouse, and makes use of Sydney's hilly terrain to provide universal access to each floor from street level. Taking cues from Australia's most profitable shopping arcades like the QVB and the Strand, a Taylor Square interchange with integrated shopping strips can be a financially successful and easily accessible destination. This could transform it into a busy public square akin to Zurich's Hauptbahnhof and London's Trafalgar Square. By replacing the existing car park with a grand staircase leading down to a tram concourse, the relationship between the public domain and the courthouse is restored.
Cars have damaged the health, sustainability and liveability of our cities. Driverless cars will only increase congestion if it means every individual can order a personal vehicle on a whim. With restricted access for cars, public space can be reclaimed for the pedestrian and Taylor Square can be brought to life by active transport, metro and trams. By simply reducing the amount of cars and providing transport alternatives, this project creates a safer and richer pedestrian experience for Oxford Street. Fundamentally, it allows existing public space to thrive like it once did in the late 1800s.