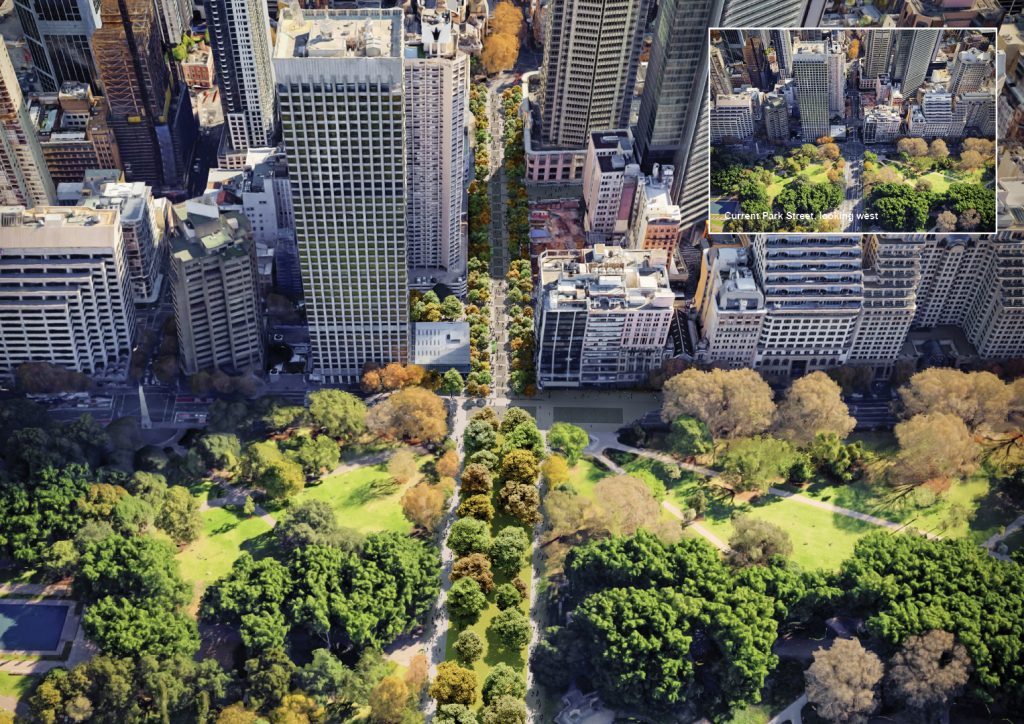 View Full screen
Sydney's Pedestrian Boulevard
Katie Rathbone, Philip Vivian, Fraser McKay, Santiago Catanzano, Nikolay Pechovski, Katie Rathbone & Annika van Leeuwen
Our vision of Park Street as a grand tree-lined pedestrian boulevard creates a green spine in our CBD free of cars.
Park and Druitt Streets will be transformed into a pedestrian-orientated green boulevard through the heart of the city, connecting Hyde Park with Darling Harbour. Park Street will be reconfigured where it currently traverses Hyde Park, healing the scar created by traffic and resulting in a single unified park. William Street will form an extension of this pedestrian-orientated green boulevard.
Surface traffic would be incentivised to use the existing Cross City Tunnel by removing the toll and implementing a corresponding 'congestion charge' for CBD surface streets, inverting the current toll scheme.
This strategy would create a strong east/west link from Darling Harbour, through Hyde Park, to Kings Cross. It would intersect with George Street at Town Hall and its proposed square, creating a node where people can connect to the city's new north/south pedestrian mall and providing a direct connection to the Pitt Street Metro station, Museum Station, Town Hall Station and the light rail.
Together, these moves would reduce the number of cars travelling through the CBD, increase the city's tree canopy, connect the CBD into the wider Sydney green grid, and reclaim and upgrade space for pedestrians, repositioning Park Street – one of our city's most central streets – as a destination that efficiently, pleasantly and sustainably moves people through our city.