Highly Commended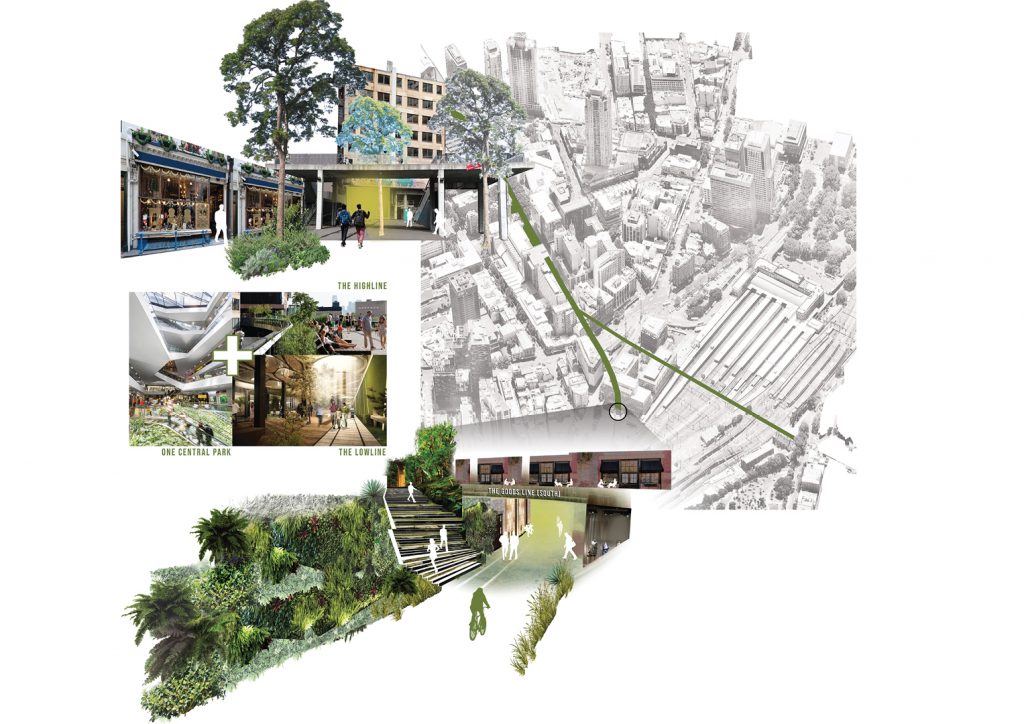 View Full screen
Sydney's Biophilic Alleys
Hao Tu
Adapting to climate and living with nature in an urban setting
What is to come of Sydney when climate extremities hit our living conditions? Past Sydney summers, we have relied on staying cool at home, and in air-conditioned spaces. These uses can affect power outages, heat waves, and cause further chaos. What if we could learn of a new way to experience cooler temperatures without the need for air-conditioning?
This design idea proposes a simple, ecological, and economical way of adapting to heat conditions in an urban environment such as the surrounds of Sydney's Central Station. Focusing on the Tunnels of the Goods Line South (stretching to the exit adjacent to the Bus Stops on Lee/Regent Street) and the Devonshire Street pedestrian tunnel.
By giving access to pockets of unused/derelict sites; knocking down barriers and opening these spaces. Allowing permanent shops to operate daily and frequently. Binding these ideas together through the form of passive ventilation cooling. Integrating permeable green barriers to entice the mental state.
This project aims to better living conditions by reducing carbon emissions. Raising awareness and showcasing adaptability uses at a small scale: passive ventilation.
This project will deliver great public spaces by putting idea to practice. By collaborating with stakeholders on the value of intimate public spaces around Central Station. To create a network that can work under the model of an environmentally conscious business.
This idea is transformational as it instigates change in operations, businesses, culture, and self. For central station, the importance for living amongst nature in this uncertain climate.