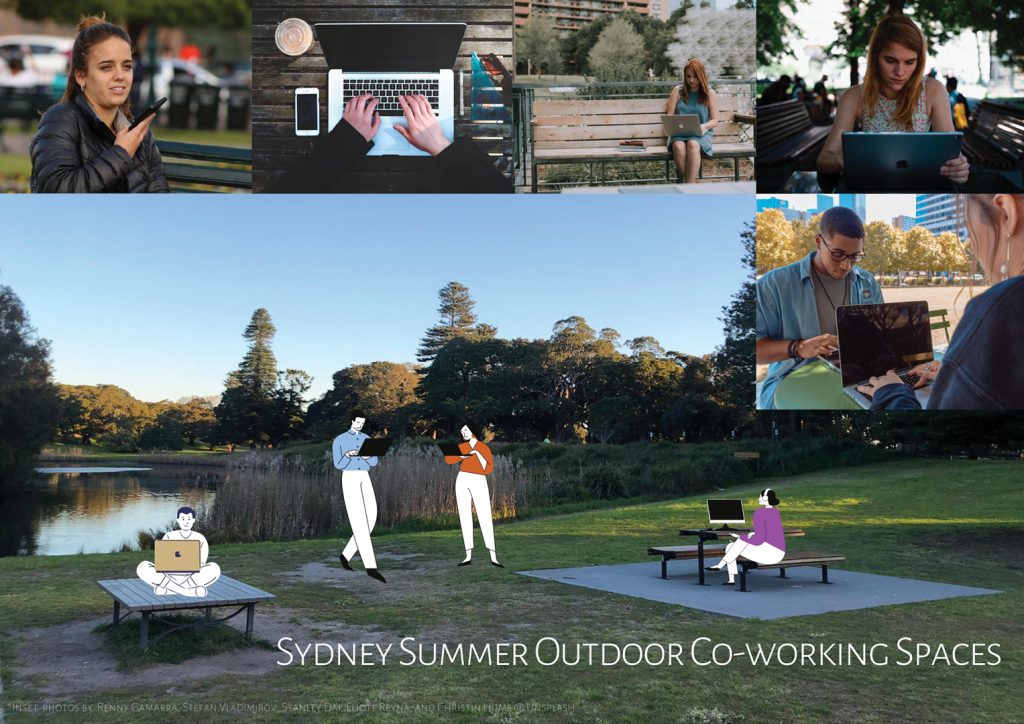 View Full screen
Sydney Summer Outdoor Co-working Spaces
Alexandra Jucovic
Covid-safe public space for getting work done.
Earlier this year an estimated 4 million+ Australians moved from working in an office to working from home. We're more empowered than ever to rethink the nature of work, but also more isolated in our daily work space.
Sydney has an ideal climate to create outdoor green community co-working spaces. Co-working spaces are creative workplaces where people who work for different organisations, free lancers, and start-ups work side by side. Since first emerging around 15 years ago more than 10,000 have been established globally.
Adopting the co-working space idea to our public parks would provide a calm and community-focused environment for work. These spaces would increase flexibility to work locally for those with cramped or stressful home environments, and for those feeling isolated at home. It's an inspirational setting to support those wanting to apply for jobs or work on their side hustle. This will promote use of our green spaces during working hours when they are quieter. The environment would be socially distanced and COVID-safe, while allowing us to return to the concept of working in the company of others.
The main image shows an example location in Centennial Park. This location is walking distance to public transport, parking, restrooms, and existing cafes. All that is required to get started is some outdoor furniture, free wifi, and a large bottle of hand sanitiser. There are opportunities to add amenities on a commercial basis, including phone/laptop charging stations and food/coffee carts.