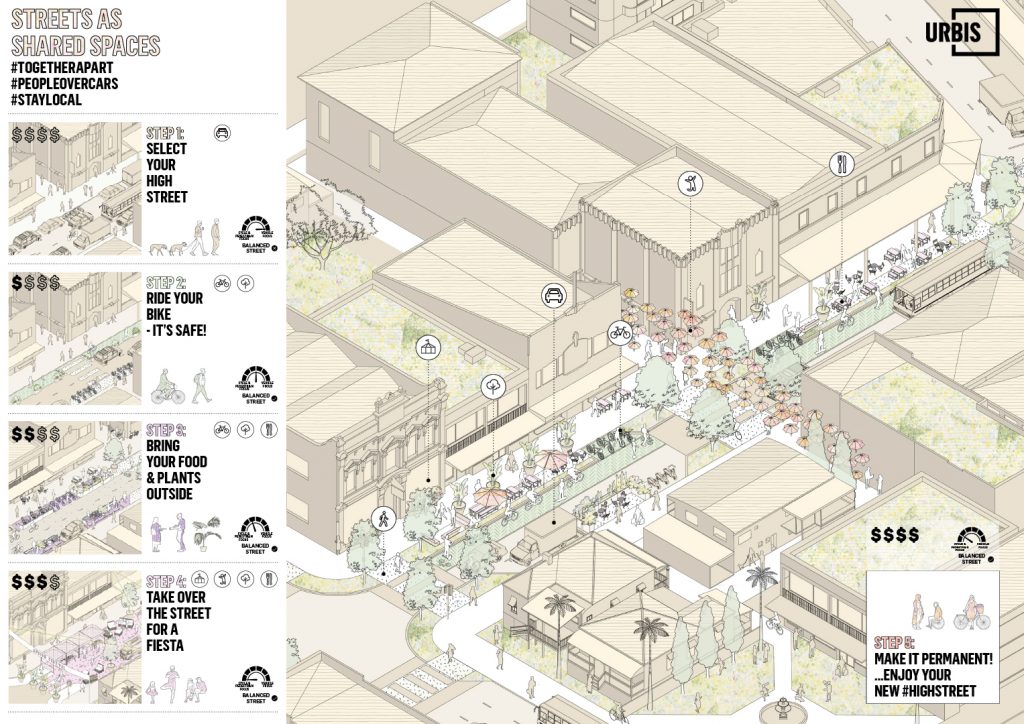 View Full screen
Streets are Shared Spaces
April Tehan and Lorena Garcia Martin
#togetherapart #peopleovercars #staylocal
Being together apart, prioritising people over cars and staying local are core to the 2020 lifestyle.
Create a better life:
The global pandemic (unprecedented for many in this generation) has fast-tracked the inevitable shift from car-dominated cities to people-centric spaces and places. If anything, this isolation period has highlighted the appetite for Sydneysiders to fall back in love with their locale, and swap driving for walking. The five-minute city puts high streets back into focus and reprioritises them within Sydney.
Deliver great public space:
Shared streets can be achieved through a series of easy steps. From replacing carparking with temporary active lanes, movable planting, parklets, markets or Sunday street fiestas, Sydneysiders can make small changes with a big impact. Ideas can be implemented quickly, tested and adapted to suit. The proposed steps can be used to curate high streets to the needs of Sydney locales, with the end goal of successful permanent shared streets.
How the idea is transformational:
The idea focuses on what it means for a street once filled with cars to be now mostly filled with people. A full rebalance of users where the community takes centre stage. It builds upon what Sydney already has and leverages on existing community assets: our high streets.