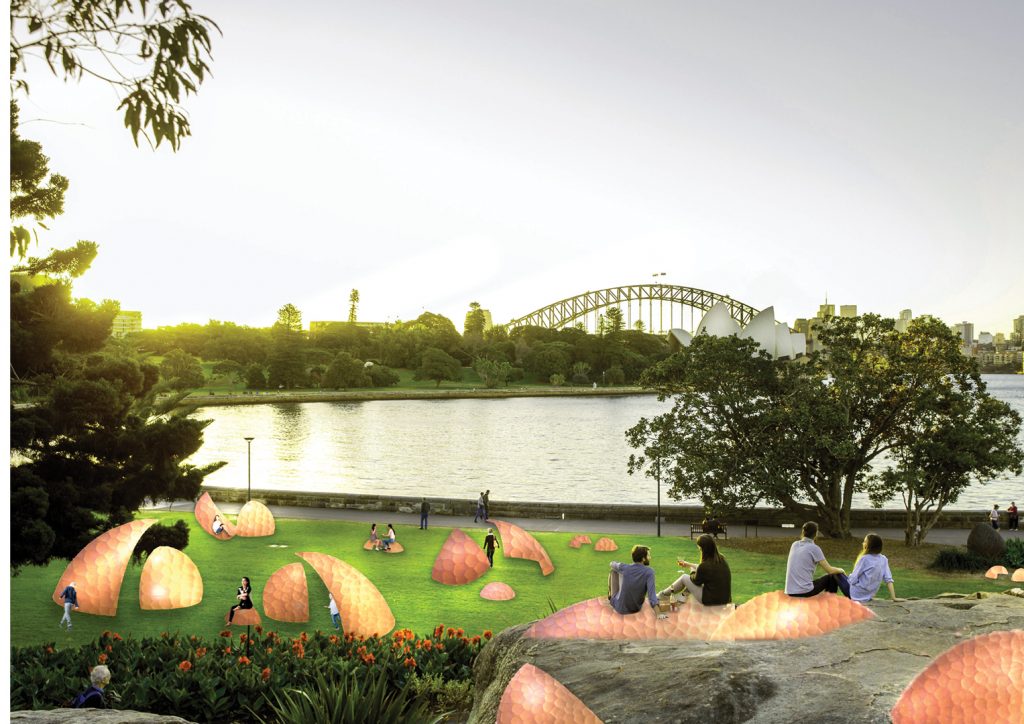 View Full screen
Spherical Skyline
Lisa Hinderdale and Sofia Hagen
Activate Your Sydney : The Iconic Spherical Solutions of Utzon Re-Imagined
Spherical Skyline is a public art installation of seats, canopies and loungers introducing an urban playground for Sydneysiders and tourists to unwind within Sydney's green spaces. Drawing on the NSW objectives to create spaces for rest and relaxation and celebrating the upcoming 60th birthday of when Jørn Utzon first developed the famous Spherical Solutions for the roof of the Sydney Opera House, we re-imagine the Sydney skyline through its most iconic form.
Starting as a cluster in the Royal Botanic Garden, the spherical sculptures will appear to sit seamlessly within the skyline – drawing an immediate connection with the Opera House beyond. Constructed of hammered copper, which has a natural healing effect and innate hygienic qualities – the public furniture will encourage rest and relaxation whilst maintaining sanitisation in our current climate. Modular by nature and easily transported as nested objects, the spherical formations can be angled as a lounge seat, turned on their side as individual seats, and even act as a canopy below which to enjoy a drink or take in the views.
When the feature public installation at Royal Botanic Garden is complete, the Spherical Skyline will be distributed with an afterlife as more permanent sculptures across Sydney's green spaces. Together creating a new placemaking scheme that encourages more walking to green spaces of the city through a newly connected walking route. And ensures the NSW objectives of well-being and drawing Sydneysiders and tourists to the city's green spaces remains.