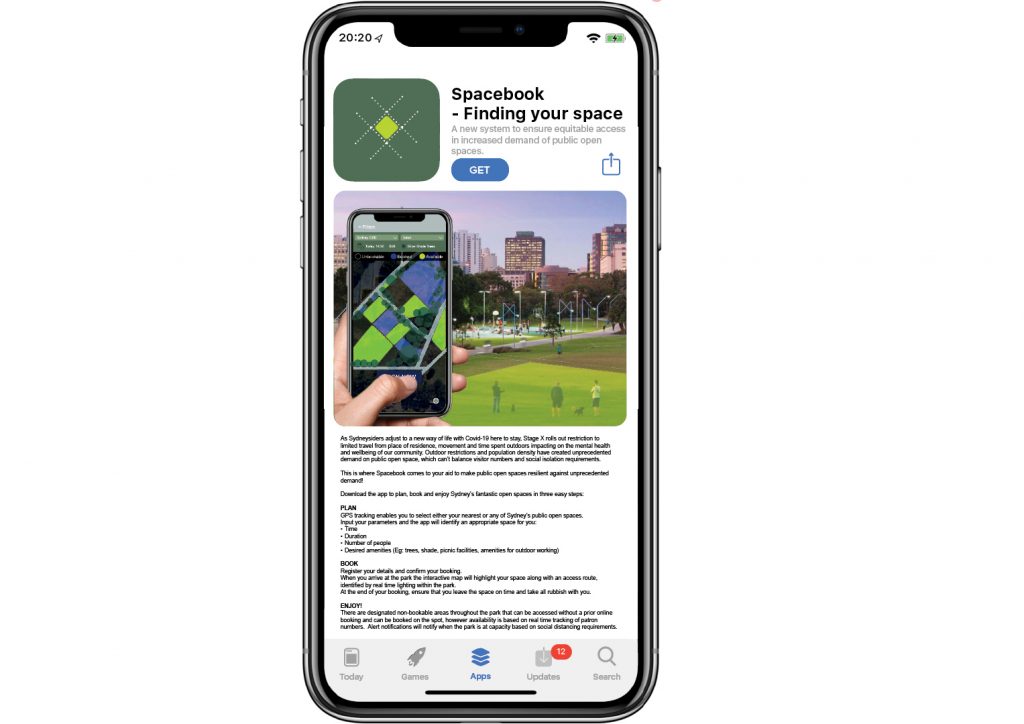 View Full screen
Spacebook-Finding your space
Nelson Gomes, Duyen Nguyen, Michelle Thomas Zacharia
A new system to ensure equitable access in increased demand of public open spaces.
As Sydneysiders adjust to a new way of life with Covid-19 here to stay, Stage X rolls out restriction to limited travel from place of residence, movement and time spent outdoors impacting on the mental health and wellbeing of our community. Outdoor restrictions and population density have created unprecedented demand on public open space, which can't balance visitor numbers and social isolation requirements. This is where Spacebook comes to your aid to make public open spaces resilient against unprecedented demand!
Download the app to plan, book and enjoy Sydney's fantastic open spaces in three easy steps:
PLAN
GPS tracking enables you to select either your nearest or any of Sydney's public open spaces.
Input your parameters and the app will identify an appropriate space for you:
• Time
• Duration
• Number of people
• Desired amenities (Eg: trees, shade, picnic facilities, amenities for outdoor working)
BOOK
Register your details and confirm your booking.
When you arrive at the park the interactive map will highlight your space along with an access route, identified by real time lighting within the park.
At the end of your booking, ensure that you leave the space on time and take all rubbish with you.
ENJOY!
There are designated non-bookable areas throughout the park that can be accessed without a prior online booking and can be booked on the spot, however availability is based on real time tracking of patron numbers. Alert notifications will notify when the park is at peak capacity .