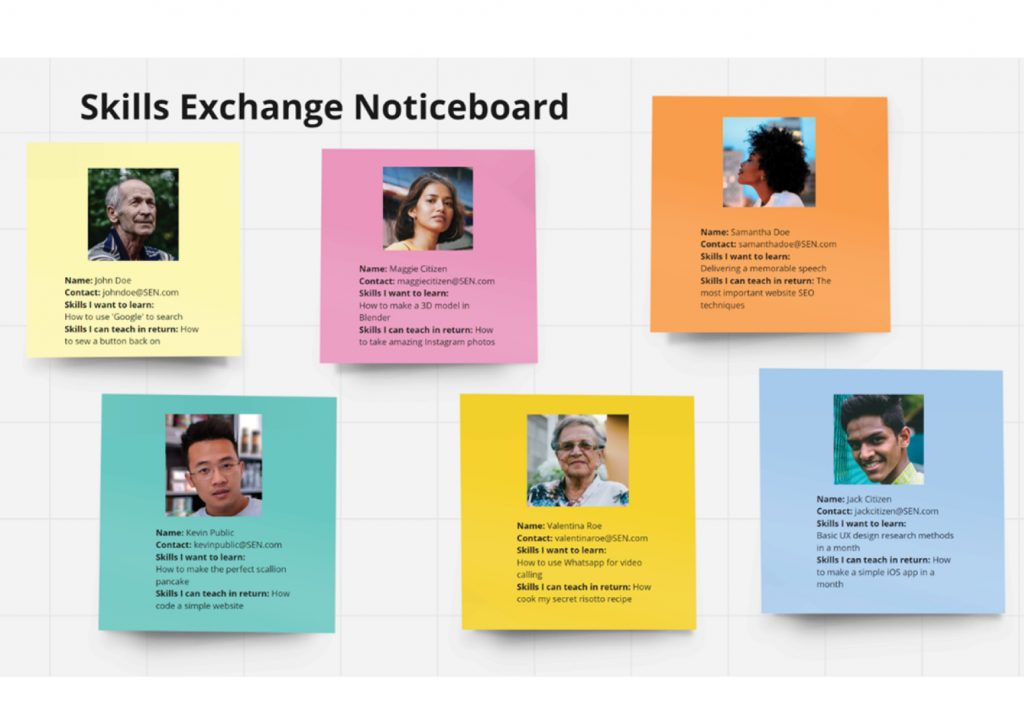 View Full screen
Skills Exchange Noticeboard
Michelle Xiang
A highly accessible noticeboard for sharing skills and knowledge in the local community.
What is it?
A digital noticeboard which encourages participants to post skills they want to learn in exchange for skills they can teach to others in the local community. Anyone can submit a request or respond to a posting in the local community, thus reducing skill underutilisation whilst strengthening bonds in the community.
How does it work?
Wall projections can be set up in public facilities such as libraries or museums.
Users can submit a posting onto the wall by filling in a short form on an iPad stationed close to the wall. Each posting will include a name, contact details, the request, and what the participant can offer. Once the submission has gone through, it will undergo a short screening process, before popping up on the digital noticeboard. The postings will be randomised after a period of time e.g. 30 min.
These postings will also be digitised to a website format for those who cannot physically access the wall. Users are also given unique urls to keep track of their postings.
Important considerations:

An onboarding process / instructions explaining how it works should be readily available to anyone interested in trying it out
Requests should be screened to ensure they do not contain profanities/are inappropriate or discriminatory
To encourage users to think carefully about their request a small fee e.g. $2 may be paid by the user to make a posting. This money will also contribute to the running costs of the digital noticeboard and associated website.