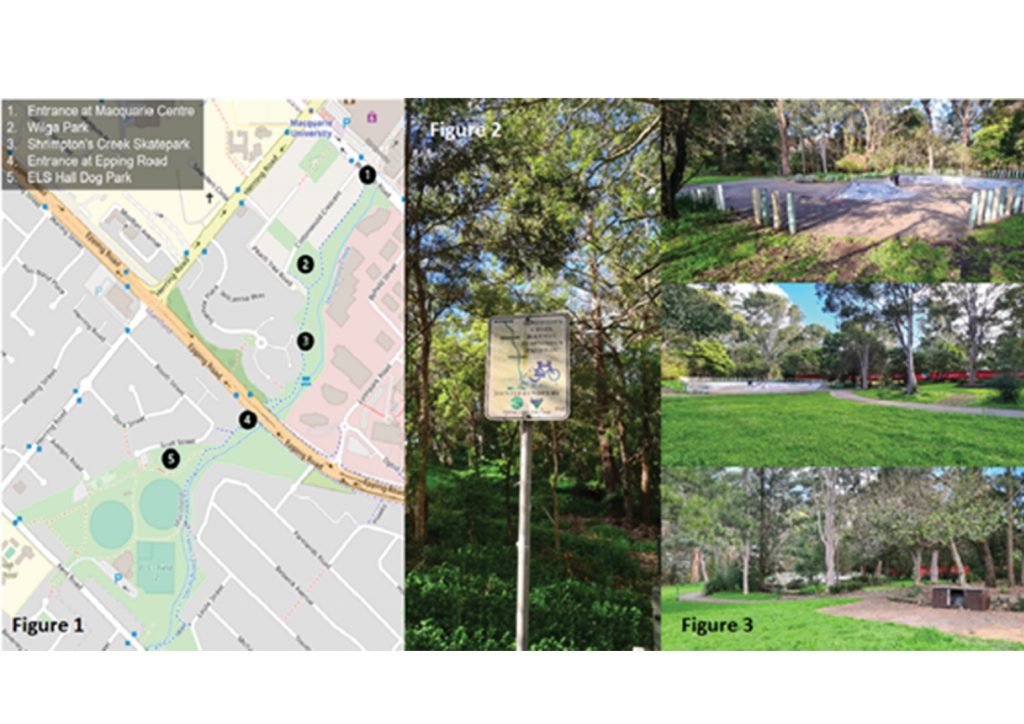 View Full screen
Shrimptons Creek Bushwalk Activation
Edward Scott, Malcolm Campbell, Harry Evan, Adiona Manyere, Kirsten Picard, Heath Yan
Our Public Space Idea is the activation of a bushwalk along Shrimptons Creek, Ryde
The impacts of COVID-19 have forced us to adapt and expand our activities and hobbies, with one major change being considerably greater use of public walkways.
Shrimpton's Creek Bushwalk is currently receiving significantly greater attention in recent months. The walk serves as a connection between many of the area's high-quality outdoor spaces, as well as being adjacent to increasing high-rise development. However, the walk itself has been underutilised and more needs to be done to recognise walkways as places. In particular, the signage along the walk is significantly limited and signage that does exist is often outdated and in poor condition. As well as this, Shrimpton's Creek Skatepark, only a stone's throw from the redeveloped Wilga Park, is in a condition that is unfriendly and dangerous for many potential users.
Our proposal is to install interactive signage along Shrimpton's Creek Walkway, with a central signage area created at Shrimpton's Creek Skatepark. This signage will aim to be accessible, entertaining, and educational. They will include information regarding the Indigenous and colonial history of the area, as well as knowledge regarding local flora and fauna. QR codes will also be featured on all signage, giving people the opportunity to access further information. Local artists will be sourced for signage design, further emphasising this as a community project. The proposal would allow for further activation of the walkway through its recognition as a public place, providing educational and visual benefits for the entire community, from those who have just arrived to life-long residents.