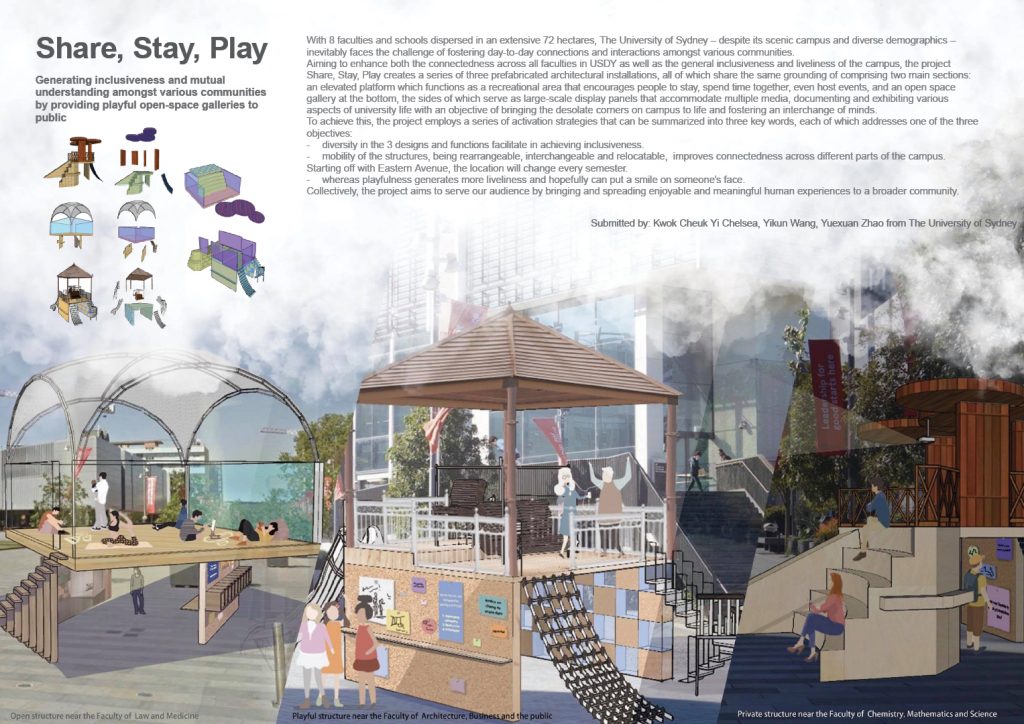 View Full screen
Share, Stay, Play
Cheuk Yi Chelsea Kwok, Yikun Wang & Yuexuan Zhao
Generating inclusiveness and mutual understanding amongst various communities by providing playful open-space galleries to public
With 8 faculties and schools dispersed in an extensive 72 hectares, The University of Sydney – despite its scenic campus and diverse demographics – inevitably faces the challenge of fostering day-to-day connections and interactions amongst various communities.
Aiming to enhance both the connectedness across all faculties in USYD as well as the general inclusiveness and liveliness of the campus, the project Share, Stay, Play creates a series of three prefabricated architectural installations, all of which share the same grounding of comprising two main sections: an elevated platform which functions as a recreational area that encourages people to stay, spend time together, even host events, and an open space gallery at the bottom, the sides of which serve as large-scale display panels that accommodate multiple media, documenting and exhibiting various aspects of university life with an objective of bringing the desolate corners on campus to life and fostering an interchange of minds.
To achieve this, the project employs a series of activation strategies that can be summarized into three keywords, each of which addresses one of the three objectives:
diversity in the 3 designs and functions facilitate in achieving inclusiveness.
mobility of the structures, being rearrangeable, interchangeable and relocatable, improves connectedness across different parts of the campus. Starting off with Eastern Avenue, the location will change every semester.
whereas playfulness generates more liveliness and hopefully can put a smile on someone's face.
Collectively, the project aims to serve our audience by bringing and spreading enjoyable and meaningful human experiences to a broader community.