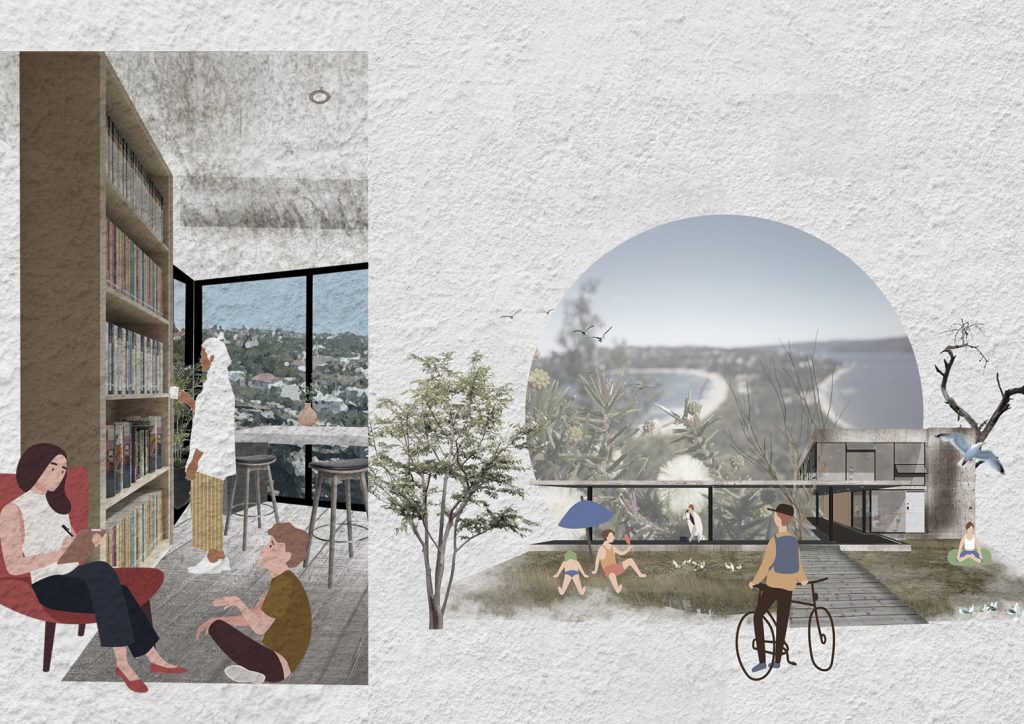 View Full screen
Seaview
Yixuan Zhang
Navigating in the ocean of knowledge - coastline libraries
Following Captain James Cook's landing in Botany Bay in 1770, Sydney has thrived and developed into one of the world's most dynamic tidal cities. Sydney's special relationship with the sea is more than commercial. Under the recent COVID-19 pandemic pressure, more people are looking for a quiet place to relax away from the noisy districts. Therefore, I propose to create a series of 'culture + technology' service spaces that have zero entry barriers, and automatic borrowing and returning system with book disinfection.
It can be a simple reading room standing by the sea with several tables, and seats, some bookshelves at the back. While people sitting in the corner of the library, they can choosing a favourite book or looking at the sea in a daze. The transparent floor-to-ceiling windows allow one to feel the light, smell, and sound of the ocean. Readers can enjoy the visual pleasure in here so that to become a good place for holidays and leisure in nearby residential areas. A diverse plant selection of native species and coastal seaside plants will reflect the diverse ecoregional context and resilient culture in a tough environment.
A network of series of landmark buildings is built in open space to create a good place for vacation and leisure in nearby residential areas. This increase residents' interest in reading, and influences to enhance and promote the tidal city's culture.