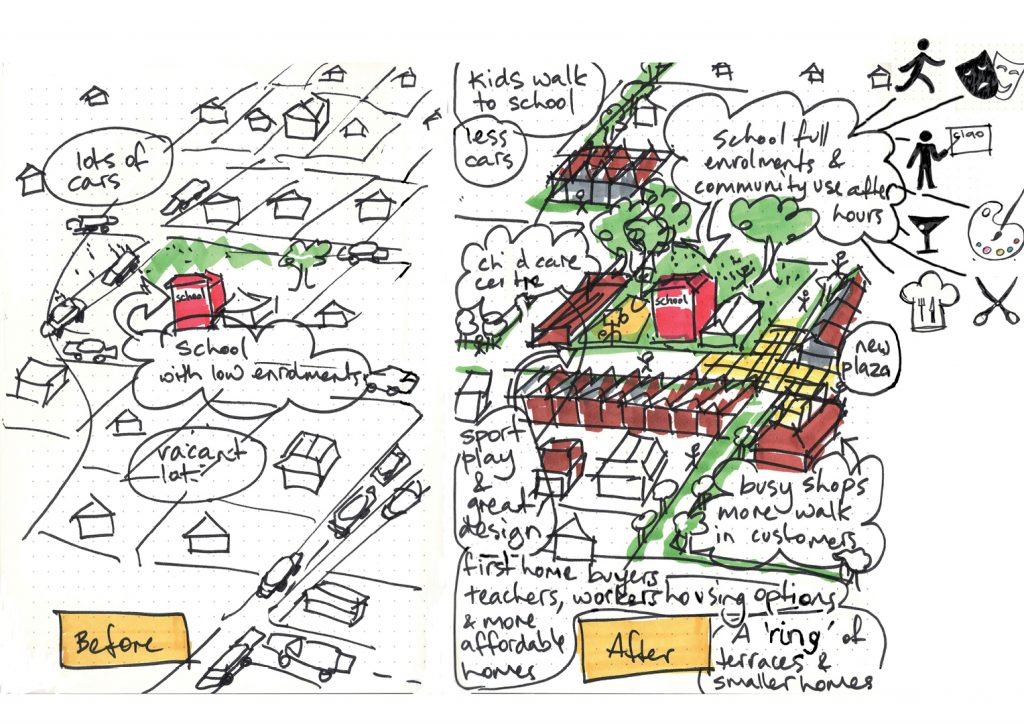 View Full screen
School as a community heart
Jennifer Sweeney, Anna Bardsley, Janet Chappell, Alex Boyce, Amelia Hawke and Kate Smith
Transforming underutilised schools into the heart of walkable villages with high quality shared public spaces
An existing school with drab open space; low student enrolments; dominating car traffic; school staff travel long distances to work; no opportunity to combine school drop-off trips with shopping, daily exercise or child care; and public transport lacking because the school is in dispersed residential-only suburbia. A great opportunity for:
• a new ring of terrace homes around the school. Smaller homes suited to small households and families. A little boost in local population will support local business, eyes-on-the-street safety and makes an in-between-place its own place
• investment in fantastic school spaces shared by the whole community on weekends and after school hours with minimal cost cultural activities like art, language, dance and cooking classes; a meeting place for park runs; a track for learning to ride a bike; organised and unorganised sport. Shared canteen for school lunch and community garden growing, cooking and sharing learning and mixing with local seniors.
• a walking school bus along landscaped street planting along footpaths & bike paths leading to school and the new village centre
• a cluster of shops and small businesses, a few shop-top apartments and childcare centre near school so you can combine daily needs with more incidental benefits adding up to a richer lifestyle.
We want to build this at Landcom and work with Education, Transport for NSW and superannuation funds to have a potential pipeline of affordable & diverse housing investment.
A very old idea that will enrich liveability for communities and create a better modern life for Sydneysiders.