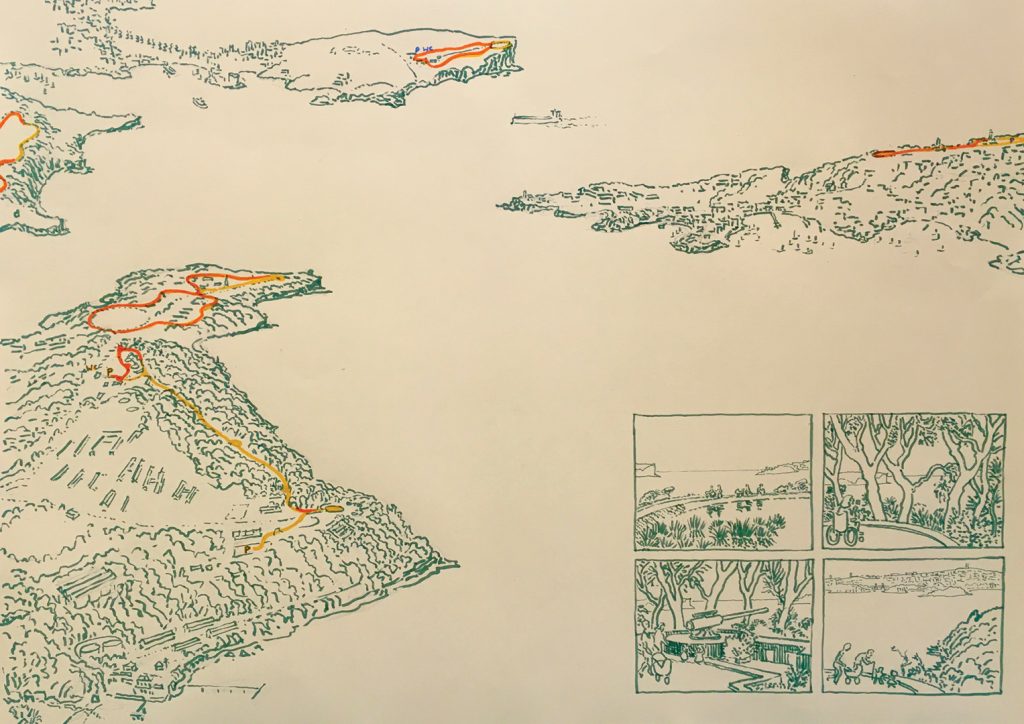 View Full screen
Scenic Pathways for All
Nick Hollo, Bill Avery and Ian Napier
Access for people with prams, in wheelchairs, the elderly around scenic location
Many parts of Sydney's coastal and foreshore walks are along escarpments and plateaus.
At these places, it would be relatively easy to provide continuous access for people in wheelchairs, people pushing prams, the aged, and the infirm.
Providing a pathway would provide a richer experience, linking varied look-out points, historical items, spectacular natural features, toilets, car parking and possibly a cafe.
The illustration shows the potential pathways at Georges Heights, Middle Head, North Head, Dobroyd Head, Vaucluse near the Macquarie Light House and Signal Station.
The paths would include existing routes (marked in yellow). Relatively minor modifications would be necessary in some places, such as replacement of steps with gentle ramps, changes to surfaces and edges. New paths (marked in orange) could be built to complete a circuit or link additional, desired features.
Sketches show some viewing locations at Middle Head and Georges Heights.
The path on a mound at Middle Head would also help control the run-off into the bushland.
Other headlands where this approach could be implemented include Balls Head – Waverton Coal Loader, Cape Banks, Clovelly, North Maroubra Headland, Elkington Park in Balmain, and others.
The life of Sydneysiders would be improved by enabling all of us to enjoy these places together, not leaving anyone behind.
The foreshores would become even greater public spaces by linking beautiful vantage points and facilities in an accessible way.