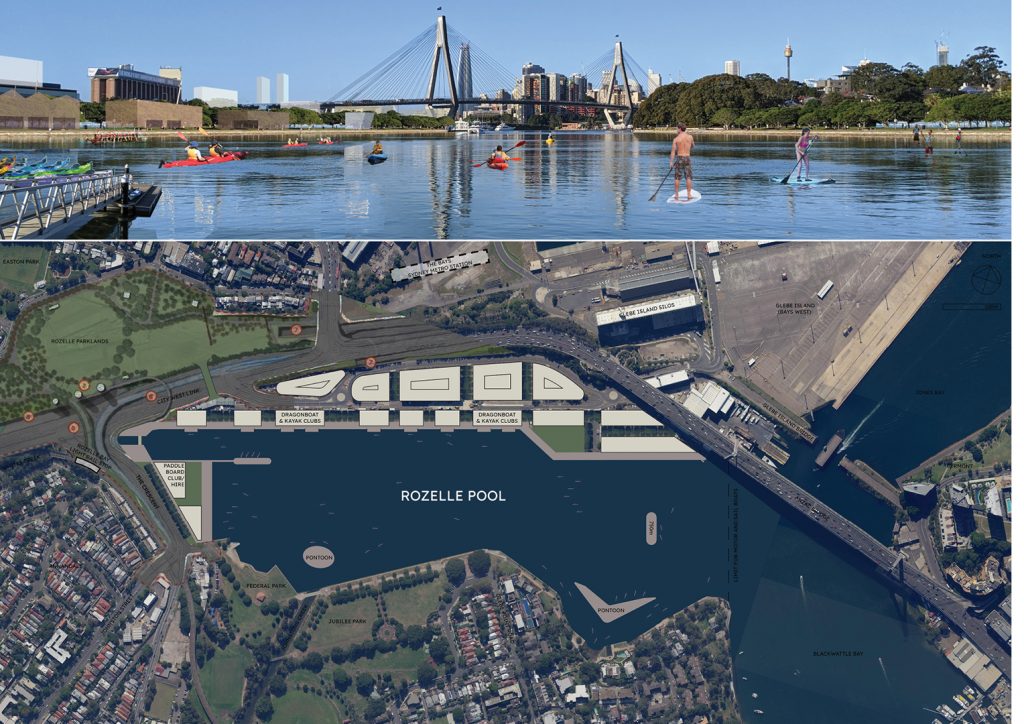 View Full screen
Rozelle Pool
Kerwin Datu
A new scale of water sports amenity for Sydney in the heart of The Bays
Rozelle Bay is the missing piece in the redevelopment of The Bays. Rather than its current use as a superyacht parking lot, Rozelle Pool proposes to close this bay to boats and create Sydney Harbour's largest cove reserved exclusively for paddle sports (dragon boating, canoeing, kayaking, paddle boarding) and, as the water quality improves, triathlon and recreational swimming.
Dragon boating and kayaking clubs can be relocated from Blackwattle Bay (further freeing the Pyrmont foreshore) and grouped with community sporting clubs proposed for Rozelle Parklands. Hiring facilities for kayaks and paddle boards make these sports vastly more accessible to newcomers from across the inner western suburbs, reaching the Pool by light rail and metro.
For joggers, strollers and cyclists, Rozelle Pool completes the missing link in the foreshore promenade circuit from Glebe Island to Federal Park, lined with cafes and bars. A Paris/Berlin-style city beach at the western end overlooks the length of the Pool along a new vista to the Anzac Bridge and Sydney skyline.
At nearly one kilometre long, Rozelle Pool easily accommodates 200m, 500m and 750m dragon boating, canoe and paddle board sprint races (1,000m can be accommodated on special occasions) and the swim leg of a sprint triathlon. Its 200m width is ideal for beginner triathlons and water safety swim tests. Paddling or swimming the Rozelle Pool or joining the Rozelle Triathlon could become one of the great personal fitness challenges of Sydney, like the 7km Bay Run or City to Surf.