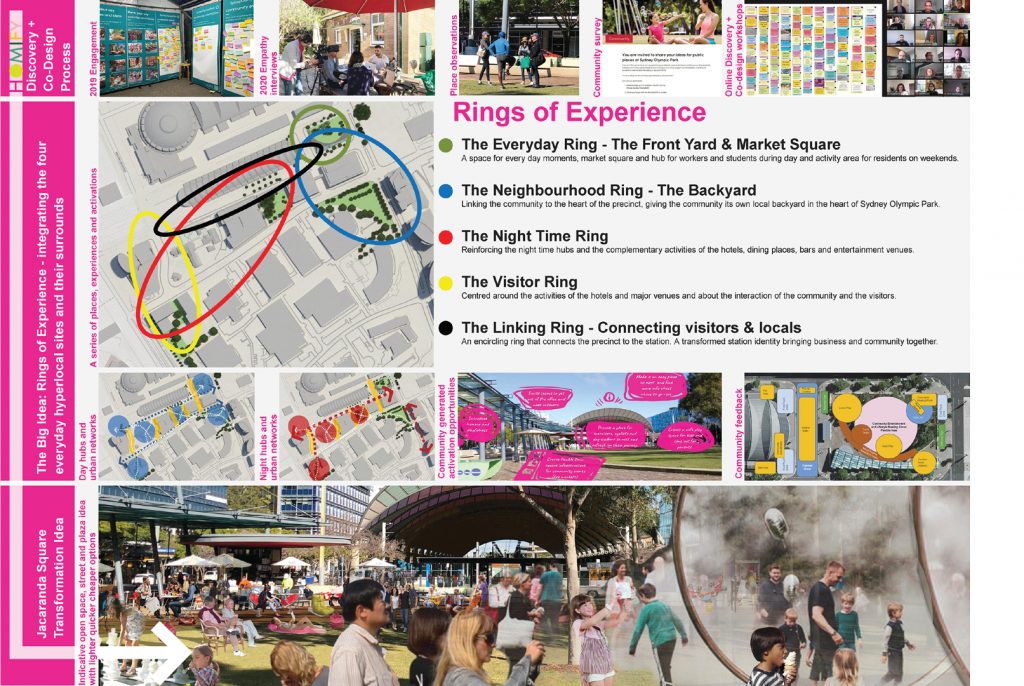 View Full screen
Rings of Experience
Mantej Singh, David Martin, Mark Armstrong, June Lee Boxsell, Tiffany Hoy, Richard Nugent, Jing Li & Di Wu
A transformation of Sydney Olympic Park Town Centre with rings of human-centred experience and activation
This big idea is to improve community and customer experiences of Sydney Olympic Park – a place cherished by Sydneysiders and all Australians and increasingly host to a growing number of residents, workers and visitors.
It all started with Homify which aimed to activate four 'everyday' spaces for residents, workers and hyper-locals. It is a case study in human-centred public space design. Before designers lifted a pen, a 10-week discovery research process engaged a diversity of Park users and stakeholders to gain insights on the issues and opportunities in sites. This included persona development, empathy interviews, place observation visits, a community survey and innovative online engagement and co-design workshops. This was built upon sustained engagement in the two
years prior.
The discovery phase led to a concept design phase which inspired the development of a "Rings of Experience" framework connecting the smaller public places in the town centre with distinct identities focused on Visitor, Night Time, Everyday, Neighbourhood and the Linking Ring. Temporary, semi-permanent and permanent place activation concepts were developed for each site including identification of placemaking 'software' (experiences) and 'hardware' (asset improvements).
Through Homify and the Rings of Experience, Sydney Olympic Park will transform from a major event precinct and be reimagined as a vibrant and sustainable Green Star local community with a strong identity, local pride and thriving economy. It demonstrates how Government, industry and business can partner together with the community to co-design innovative public spaces.