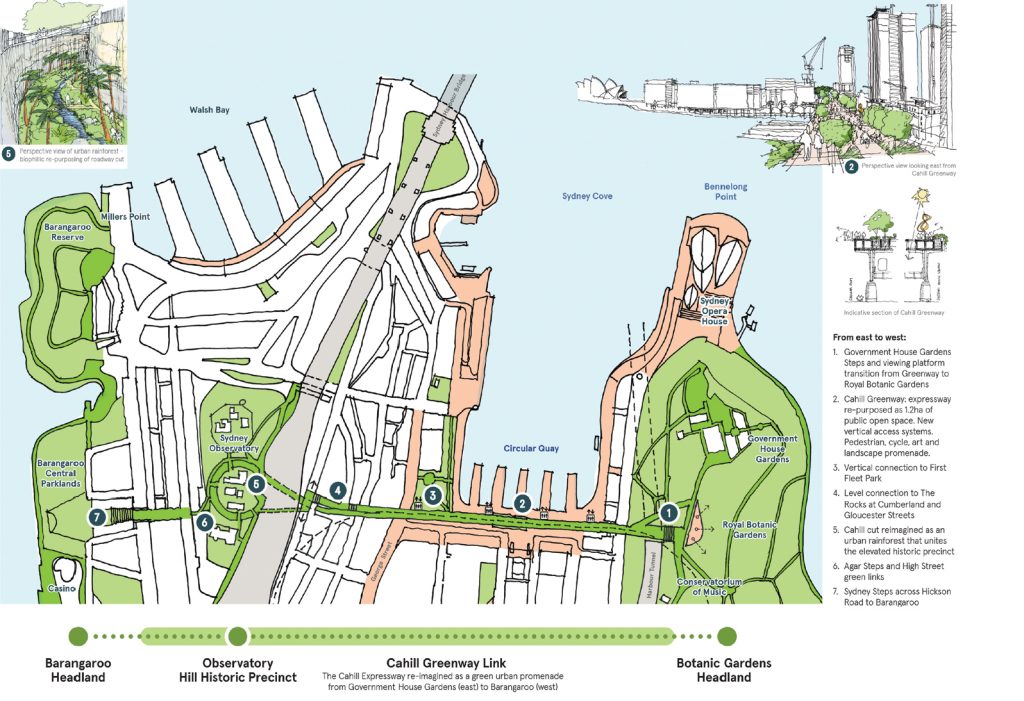 View Full screen
Remaking the Cahill – From Expressway to Greenway
Steve Anders
Linking Sydney CBD's Green Edges
The Cahill Expressway spans the Tank Stream Valley touching two enclosing ridgelines – Tobegully to the east (Government House Gardens) and Tarra to the west (The Rocks). It has long been criticised for severing Circular Quay from the CBD and introducing a harsh, traffic dominated environment in one of Sydney's most important gateways.
Envisaging a future where the Cahill Expressway is no longer required for automobiles, the idea is to re-consider this structure as a universally accessible, public open space asset for all.
The idea seeks to create a better life for Sydneysiders by eliminating cars from the expressway to provide a universally accessible link between Sydney's green headlands that offers a totally new passive recreation experience for residents, workers and visitors to enjoy.
The existing harshness and severing effect would be ameliorated by softening landscape, public art, cycling, and places to wander. By opening up the structure, creating alternative focal points and establishing direct sightlines through the Greenway to adjacent spaces.
The Cahill Greenway would deliver a great public space – a 1.4ha green corridor with unparalleled elevated views of water activity over Circular Quay, Sydney Harbour Bridge and the Opera House together with a new, urban rainforest within the deep sandstone cut of the Cahill Expressway on-ramp.
The journey from headland to headland will offer a range of public open spaces and experiences. No longer a hated expressway but embraced by Sydneysiders and visitors as an expression of city renewal as a Greenway.