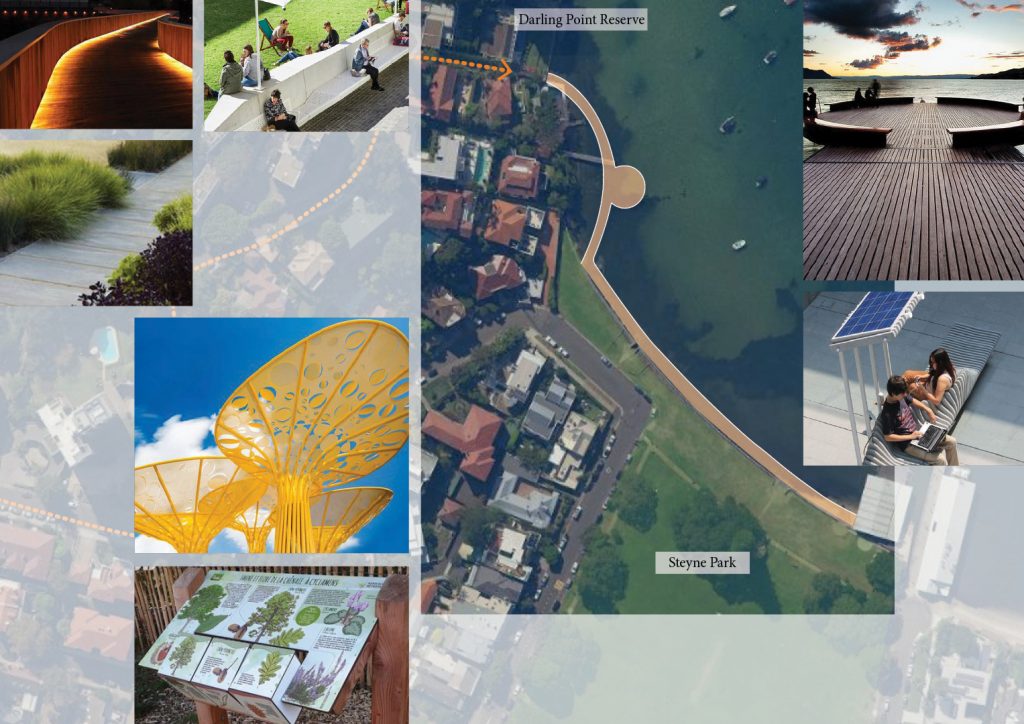 View Full screen
Reclaiming the harbour foreshore
Neda Vandchali & the multi-disciplinary team of Woollahra Council
A new Boardwalk - Revitalising the foreshore and increasing the opportunities for coastal recreation
Sydney Harbour and the stunning views it provides should belong to all. However, a large part of Sydney's foreshore is inaccessible. There is an existing access point to the harbour, on the eastern side of Sutherland Crescent in Darling Point, which is underused. This idea reimagines the foreshore area by introducing a boardwalk above the ocean connecting Darling Point with the Double Bay Ferry Wharf, creating a better land-water interface, and therefore revitalising Steyne Park. The idea opens up the foreshore to the wider public and potentially adding a key feature to the Bondi to Manly coastal walk.
Along with providing incredible ocean views, the boardwalk will offer a DIY walking tour for residents and visitors to discover the local marine biodiversity and scenic look-out areas. It will use sustainable infrastructure and contactless technology such as solar-powered information signage e.g. QR codes serving as a digital guide; smart bollards, and public art.
This unique public space feature will be easily accessible by foot, bicycle, bus, ferry, and car. This idea will also greatly improve the launching facilities of the Australian 18 Footers League, an international competition held at Steyne Park.
By opening up this small yet significant section of Sydney's coastline to the public, this idea sets an example for future reclamation of forgotten public land for coastal recreation.