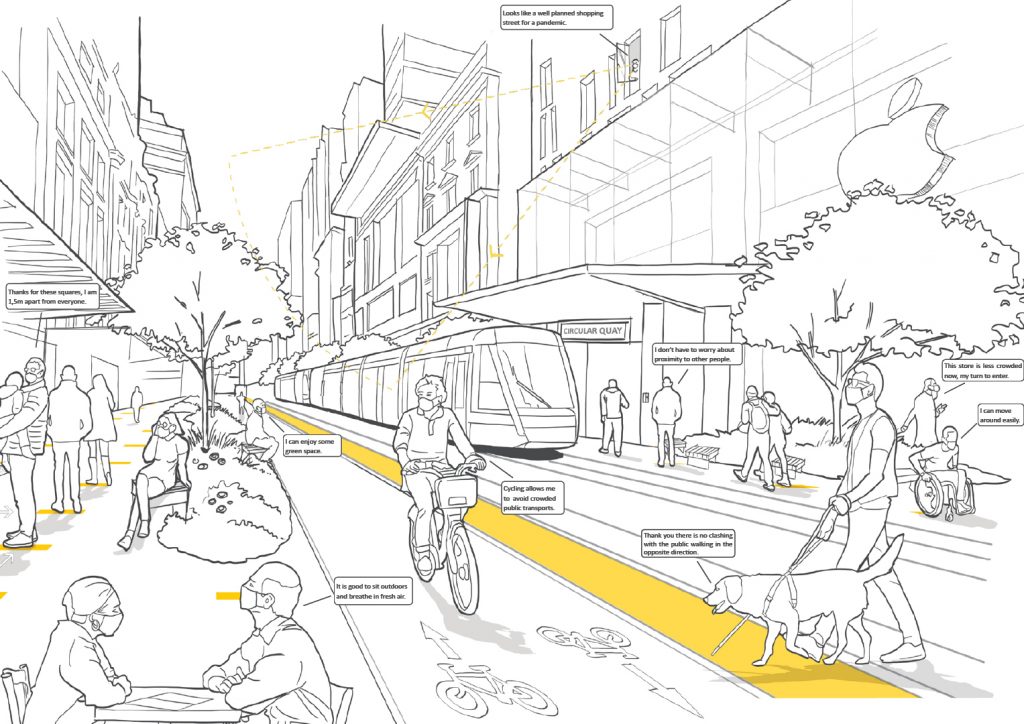 View Full screen
Re-imagining George Street
Reeshika Vallabh
Sydney's main artery
George Street is the heart of Sydney and one of its busiest streets. It's the main artery connecting the historical Rocks precinct in the north to the connecting cable of Central Station in the south.
Disruption has been central to George Street and its arterial streets in recent years as the light rail- public works project dominated for more than four years. It felt like pedestrians had only a short time to enjoy the new streetscape before Covid-19 hit.
Covid-19 brought a quick, highly destabilising change to how we work, shop, and socialise. The psychological effects of Covid-19 have been far-reaching as stress, anxiety and loneliness increase demand for mental health services. Physical distancing doesn't need to mean social distancing.
The public health message of 'we're all in this together' is critical for George Street as the life blood of our city.
Well-planned, thoughtfully-structured public spaces such as George Street build social solidarity by improving physical and psychological accessibility, helping Sydneysiders feel less alone.
We propose a revitalised streetscape that enhances our community and particularly invites the most marginalised members to experience a sense of belonging.
We envisage:
• Creative pedestrian walkways highlighting direction of travel;
• Shared bicycle paths with pedestrians;
• Light rail trams with improved and designated seating spaces;
• Designated designed spaces for people to sit and wait outside
shops and other premises;
• Disability access for wheelchairs and and other mobility aids;
• Clear signage of social distancing and Braille.