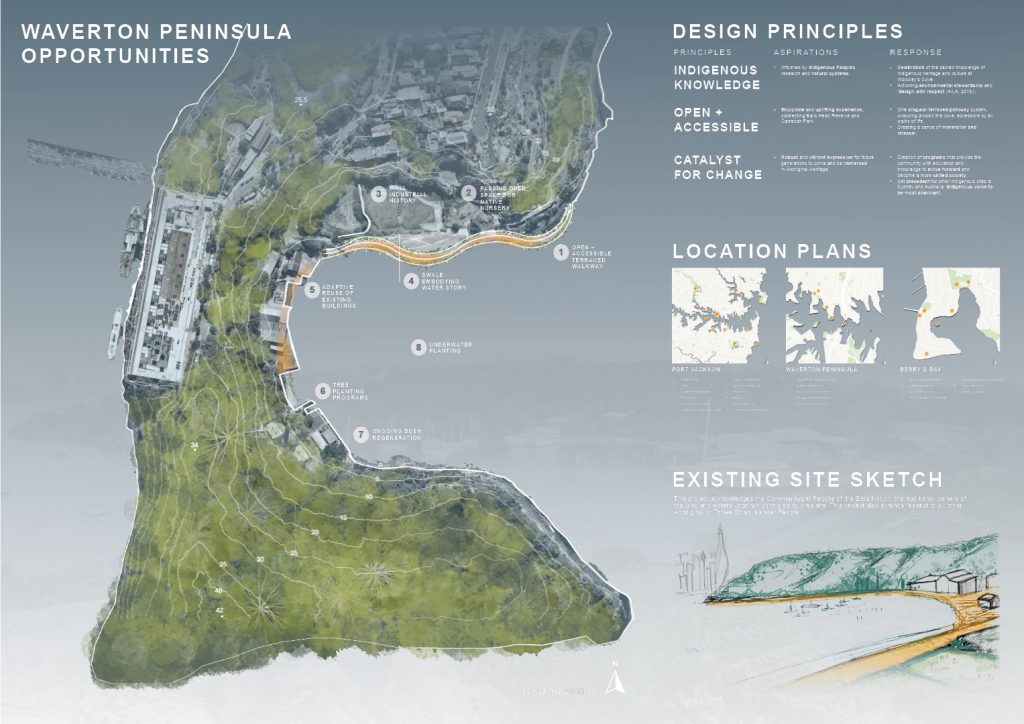 View Full screen
Re-Dreaming Yerroulbine
Isabel Peng
Uplifting Aboriginal Heritage in North Sydney
The year 2020 has seen many extraordinary events. It started with Australia on fire, quickly followed by the global pandemic, greed has once again blown up sacred sites and cut down sacred trees. The next generation have protested and are continuing to protest for the end of racial discrimination. All of these major current events have influenced this project and the focus is on uplifting Aboriginal heritage at Waverton.
There is such strong evidence at Waverton Peninsula of Indigenous livelihood. There is a large whale rock carving at the Sustainability Centre and there is a shell midden at Waverton Oval. The structure of the Cove has many landscape qualities and characteristics that make it ideal for a shelter and home. This detailed design process is to be based on authentic, interactive planning and co-created design process, driven by a working group comprising representatives of the Traditional Owners, with local community people, supported by North Sydney Council. This work will promote and implement an ongoing program of seasonal events such as tree planting, continuing bush regeneration projects and introduce productive landscape programs such as a native nursery, which takes precedent from the South Eveleigh Community Native Rooftop Farm. Key to this is Indigenous Knowledge and involvement.
This idea will bring life to the layer of cultural history that is being forgotten to Sydneysiders. It will deliver a place for the above activities to happen. This process is transformational as Sydney holds a moral and ecological obligation to its Traditional Owners to ameliorate its living landscapes.