Highly Commended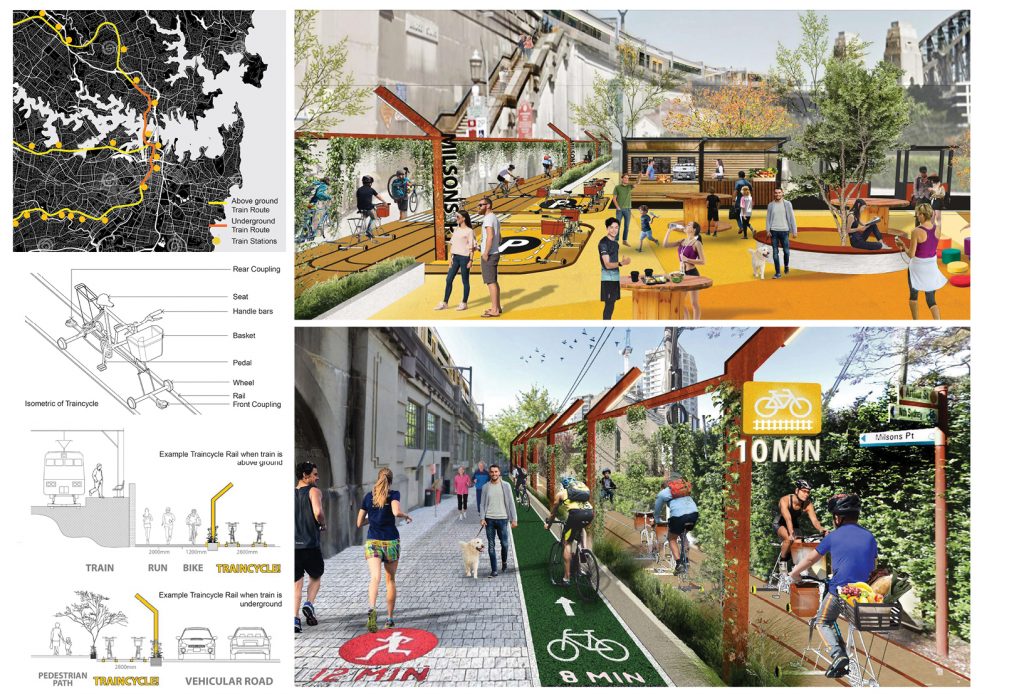 View Full screen
RACE THE TRAIN
Syarita Amalasari & Wani Chan
Movement networks that encourage a healthy and sustainable mode of transport
The idea reinvents the way we people travel to and from work in the city. Every day hundreds of people gather in crowded train stations waiting for the train neglecting the social distancing. It is also very uncomfortable standing on a crowded train in general. The most common solution of alternative travel is cycling, however that entails having to pushing bikes up and down steep stairs, or taking ridiculous detours, in a narrow space shared with either pedestrian or cars.
This project changes this by taking the idea of the fast, static route of the Sydney metro and applying it on a bicycle – Traincycles! These Traincycles follows the route of the Sydney metro railway bringing people from station to station to and from the suburbs and the city. It promotes a fun way of travelling to work, where a commuter could potentially be able to beat the train and arrive at their destination earlier, hence the name RACE THE TRAIN. Parking stations for the traincycles will be available on all stations so commuters will have the choice of either taking the train or the Traincycles. Furthermore, each station will have a small pop-up shop (such as small cafés, mini-markets or convenient stores) where a commuter could grab a coffee before continuing on their journey down the rails.
This project encourages people to be active by cycling down a safe railway track instead of waiting in a crowded train station and promoting social distancing.