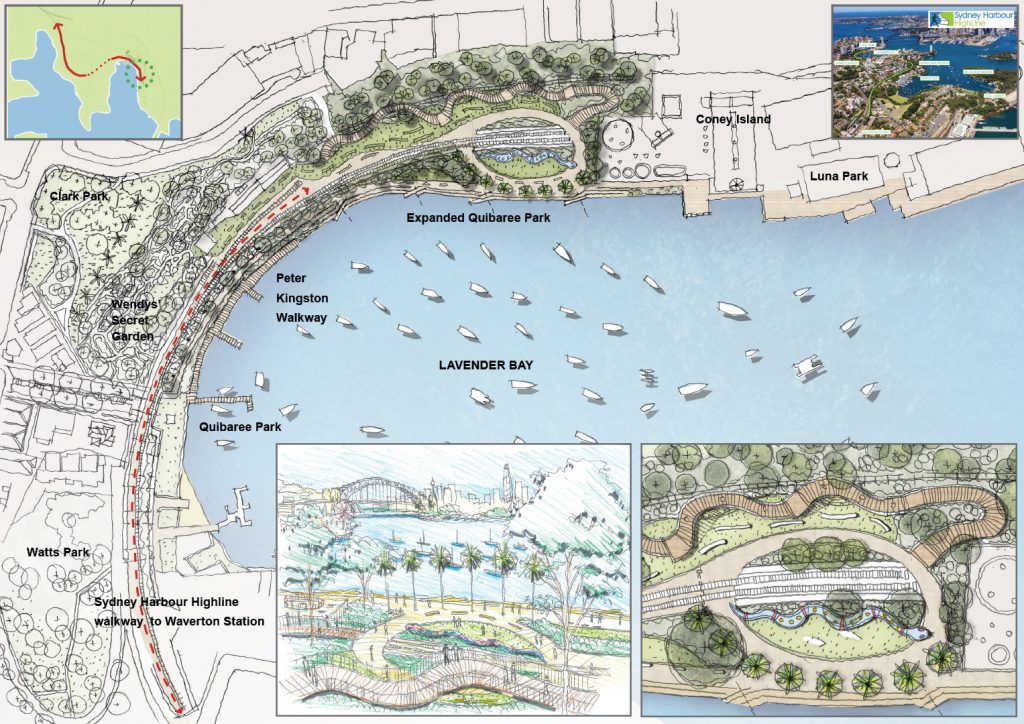 View Full screen
Quibaree Park Lavendar Bay & Sydney Harbour HighLine to Waverton
Joan Street, David Bowman, Ian Mutton, Ross Shepherd and Chris Jennings
Liberating harbour foreshore railway to connect adjoining parks, and create a walkway link to Waverton
The Cammeraygal people of Lavender Bay called it Gooweebahree (Quibaree, meaning "fresh water"), being a richly vegetated bay with sandy foreshore and flowing streams.
Quibaree Park is presently a thin slither of lawn and boardwalk, tenuously connected to Wendy's Secret Garden, Clark and Watt Parks, with the railway and Luna Park dominating the foreshore. The NSW Premier's Committee and Transport for NSW have resolved to convert the railway spur from Waverton to Lavender Bay to a stunning walkway, discreetly maintaining the tracks for heritage train special events and creating 3.7 hectares of foreshore open space.
The 'Sydney Harbour HighLine' (SHHL) re-purposes the railway creating node parks and lookouts along its length, linking Sawmillers Reserve, Waverton Park and Berrys Bay.
The expanded Quibaree Park provides the culminating park for the SHHL, whose parkland and indigenous interpretive features include:
• Bushland regeneration and new park landscape;
• Water-access benches stepping down into the harbour;
• Oval lawn multi-purpose relaxation and events space;
• 50m long Rainbow Serpent mosaic sculptural bench;
• Sinuous walkway transitioning the 15m level change down the railway cutting, cantilevering at dramatic lookouts;
• Sloping lawns with linear viewing benches;
• Dramatic walkway along shared rail line to Waverton.
Provides 3.7 hectares of public open space within 10 minutes of residences in an area acutely short of green space with more residents per hectare than other North Shore Councils and the City of Sydney; Provides a social history mosaic of Sydney including indigenous heritage, maritime history and industrialisation; Transforms rail into connective walkway and park.