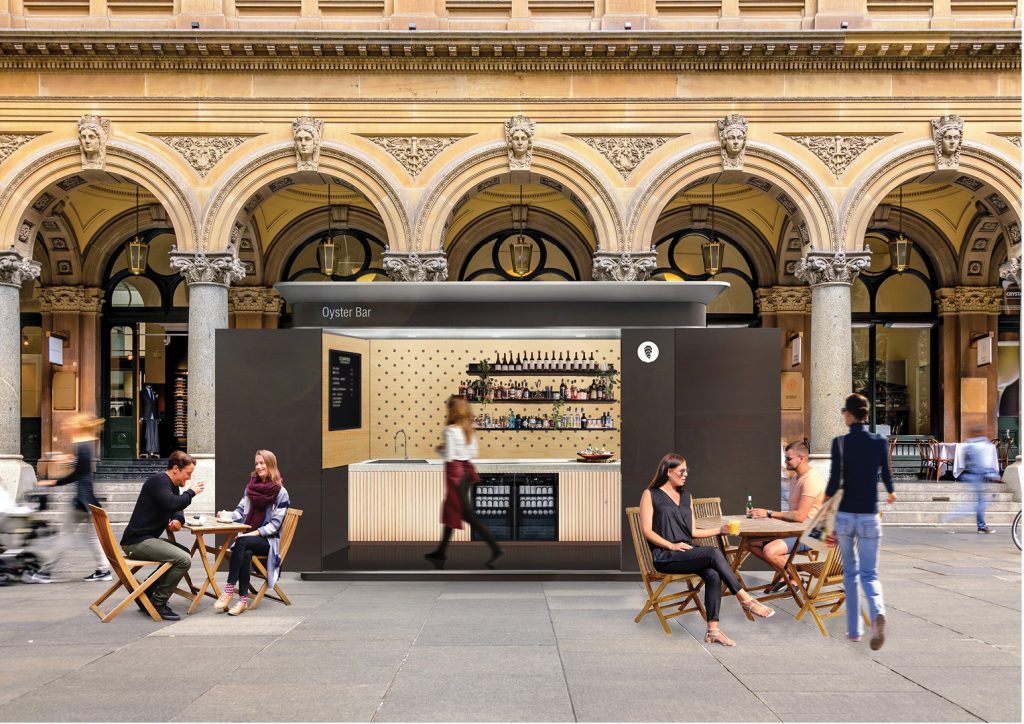 View Full screen
Public Square Oyster Bar
Steve O'Connor
Compact oyster bar kiosks to bring Sydney's piazzas to life with a summer vibe
"Designing cities is arguably as much about detail design as it is about larger policy, planning and urban design questions. Urban furniture is one measure of the level of design sophistication in the culture of a city and its leaders. This kiosk design reflects a youthful vitality with design roots traceable to unique historic industrialised harbour architecture and infrastructure, uses enduring and sustainable materials and construction, and integrates smart technology. This is achieved by interior and exterior design that significantly reduces bulk and urban clutter whilst increasing retail space and functionality. It reflects and enhances Sydney's emerging identity as a city on the global stage."- Alec Tzannes
JCDecaux has worked with Tzannes to propose a simple adaptation of its kiosk infrastructure to showcase local seafood and bring to life Greater Sydney's open spaces in a style that is global (think cafés in Paris or piazzas in Rome), and quintessentially Sydney, making the most of virtually year-round good weather.
JCDecaux researched current vendors, who identified these kiosks as more than just convenience, they "satisfy contemporary retail needs – with the ability to activate the public space with less clutter."
With a compact, modular design, adaptive kiosks could also change in nature from day to night trading.
This commercial-community proposal enlivens public spaces with an outdoor dining experience for tourists and Sydney-siders alike. The kiosk concept responds to recent relaxations around liquor licensing and a greater focus on social distancing, encouraging us to optimise our use of outdoor spaces for safe (much needed) social interactions.