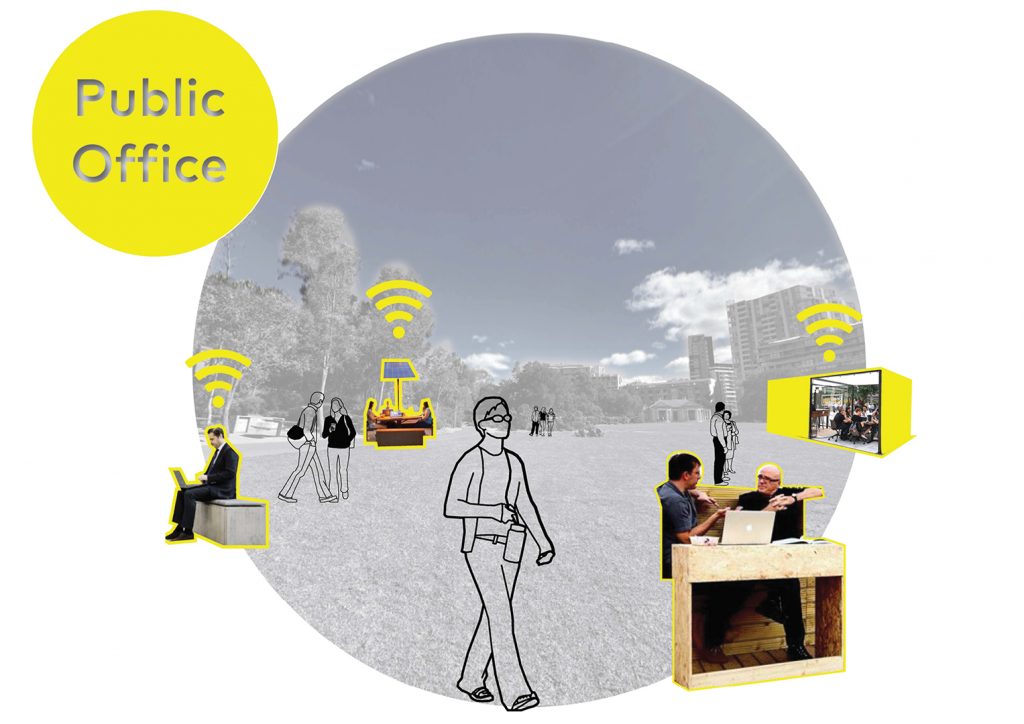 View Full screen
Public Office
Cox Architecture
Bringing the office outdoors, from the city to the suburbs
The nature of COVID-19 has changed the way people work, learn and live worldwide, with many adapting to home-working environments and with expectations that this new normal will continue. With communities reducing commutes and embracing the work from home flexibility, public open spaces that have traditionally served passive, residential needs are now experiencing demand day and night, weekday and weekend, winter and summer.
The Public Office provides Wi-Fi in public parks as well as temporary/permanent/mobile furniture that can be used on those glorious Sydney days when you would rather be outside.
The Public Office provides an alternative for people with small living spaces, as well as opportunities to access the internet for those who can't afford it. Public libraries could set up temporary terminals in public spaces to provide computer access to those who need it. Ideas markets could be provided to provoke interaction and innovation.
Public open space provides the greatest benefit when it is well utilised throughout the day and week. Greater activation makes people feel safe and provides them with social and recreational opportunities that they can't get in their own home. The Public Office will bring more people outdoors during the day and evening, activating underutilised parks and public spaces and providing opportunities for COVID safe social interaction during the work day.
Public Office flips the notion that work should be done in a particular place at a particular time, and provides opportunities for new uses of public open space for everyone.